Top style tips for Japan
When deciding what to wear in Japan, remember that the Japanese dress code is relatively conservative on the whole. But, the younger generation is very daring and you'll see some crazy outfits in Tokyo. Harajuku, in particular, is well known for its outlandish fashion statements.
Also, keep in mind that tatty looking clothing can be frowned upon. Try to wear neat and well-maintained clothing, and keep yourself well-groomed. For example, holes in socks are a big no-no, because you spend lots of time without shoes on – visiting temples, shrines and traditional restaurants etc.
Shorts, jeans, and even camisoles are perfectly fine to wear.
However, jeans are not generally popular with locals beyond their 20's. For jean lovers, we suggest packing black jeans as an alternative to blue denim. Darker denim is also more versatile because it is easier to dress up.
Dress in layers because the indoor temperature will be very much warmer than outside – a sweater or pashmina works well as it's easy to slip around you if you feel cold.
Communal bathing in hot springs(onsens) is a traditional pastime. But apart from in a few mixed-gender baths, you won't need a swimsuit as they are explicitly forbidden (for hygiene reasons).
As the Japanese are very petite, finding clothes to fit in the popular stores can be difficult – so take everything you will need with you.
Japan is famous for its futuristic toilets, with an array of remote controls that dispense jets of water and blasts of hot air. Public conveniences are always spotlessly clean and there will be hand-washing facilities. However, towels or hand-driers are rarely provided – so carry some tissues or a microfiber travel towel with you. Also, note you'll need to remove your shoes and put on plastic 'bathroom slippers' which are provided outside the door.
In Japan tattoos are associated with the mafia, and are banned in many places – even a tiny mark may mean you are refused entry. So if you have any, keep them covered with clothing, plasters or special concealer products.
Ensure you bring a versatile travel jacket. We love the SCOTTeVEST travel jacket because it has over 23 pockets, removable sleeves and RFID protection.
---
Shoes to pack for Japan
Pack comfortable shoes for walking that can be slipped off easily when you need to (visiting temples etc). We can't emphasize enough the need for really comfortable well broken-in walking shoes (try Hotter shoes, we love their styles and they are just so comfy).
Although women here love to wear high heels, we recommend saving your for the evenings when you are going out. There is so much walking to do, and you will feel much more comfortable in a good pair of walking shoes instead.
Pack a pair of heels in a neutral color that works well with all of your dressy outfits. This will save lots of room in your suitcase.
Comfortable walking shoes are crucial when exploring the streets of Japan.
Pack for the weather
What to wear in Winter (December, January, February)
In winter wear sturdy, waterproof boots, gloves, a winter hat and an insulated winter coat.
---
What to wear in Spring (March, April, May)

Spring is a great time to be in Japan but the weather can be variable. The early part of Spring (March and early April) is much cooler than the latter half. So you will need to plan your clothing accordingly.
The temperature in Tokyo during early Spring can be relatively cool. The morning and evening temperature hovers around 41 degrees F (5 degrees C) and the average temperature during the day is around 55 degrees F (13 degrees C). So, if traveling to Japan in March and early April, we would suggest packing gloves, a scarf and a waterproof jacket. You could also bring a travel umbrella to be well prepared for the rain.
By mid-April, the weather begins to clear and becomes warmer. You will see some mild days of around 66 degrees F (19 degrees C). But there is still a bite to the air in the early mornings and evenings, so you will need to be prepared. Be sure to pack some layering sweaters and a jacket.
May brings lovely mild weather with temperatures around 74 degrees F (23 degrees C) during the day and 59 degrees F (15 degrees C) in the early mornings and evenings. You can pack some lighter weight sweaters for May, but we still recommend bringing a good quality waterproof jacket.
Check out this Japan Spring Packing list for a complete list of things to pack in Spring and a handy visual capsule wardrobe to inspire you.
---
What to wear in Summer (June, July, August)
Summer gets very hot and humid, so lightweight natural fabrics such as linen will work best. Make sure you wear sunscreen (we love the Riemann P20 range for 10 hour protection), a sunhat (or carry an umbrella), and take plenty of water with you when sightseeing (a LifeStraw Filtration Water Bottle is handy).
It's worth knowing that it rains more in June, so a lightweight raincoat would be worth packing (but save space in your case and buy an umbrella when you get there – you will have plenty of choose from).
What to wear in Fall (September, October, November)
In Fall there is less rainfall during the fall months, but a rain jacket is still advisable.
Dress in merino wool layers.
For a complete packing list and capsule wardrobe for Japan in autumn check out our awesome Japan Fall Packing List
Heading to Japan in November? Check out our specific advice here: What to wear in Japan in November
---
Clothing tips for women
You don't need dresses or skirts unless you feel more comfortable in them.
If you are traveling to Japan on business then a formal, conservative trouser or knee-length skirt-suit worn with tights in dark colors works well, but do avoid an all-black look – this is associated with funerals. Also, avoid revealing or sleeveless blouses.
Japanese women generally do not wear nail varnish.
Clothing tips for men
For men on business pack dark colored suits with a blue or white shirt. Other colors are worn, but blue and white are considered the most acceptable. Avoid wearing a black tie as it is associated with funerals. It's also advisable for men to be clean shaven – stubble is generally frowned upon.
Wearing a tie is generally optional in most industries, but perfectly acceptable if you prefer to wear one.
Business attire in Japan: opt for a dark suit with white or light blue shirt, a tie is optional.
---
Regions of Japan
In Tokyo, black and grey are very popular but outside the capital you will see a far greater choice of colors being worn.
If your itinerary includes Kyoto you'll find a more colorful feel to dress than there is in Tokyo – perhaps because it is a popular tourist destination and people are dressed for vacations rather than work.
Trips to climb Mount Fuji are available, but the full ascent can take 6-11 hours so you do need to be fit. Make sure you have sturdy footwear and carry a light backpack with drinks, snacks and warm layers. Climbing overnight is popular, so you can see the sun rise from the top.
Do pack swimwear (opt for a one-piece rather than a bikini) if you're heading for the pacific island resorts where the beaches rival those of the Caribbean.
---
Travel essentials for Japan
Note that some common medical nasal sprays, which are fine elsewhere, are illegal in Japan. Check your brand if you use one.
Surprisingly, Tokyo doesn't have free WiFi in cafes or malls etc, so you may want to take a portable Wifi device. Choose one which support multiple gadgets and has a built-in power bank.
Aside from the younger generation in Tokyo, few people speak English – however everyone is extremely helpful if you look lost or confused. Add a translation app to your smartphone before you go, and learning just a few simple words of Japanese (hello, thank you etc) will be hugely appreciated.
And take a comfy shoulder bag or backpack to carry your daily sightseeing essentials.
Avoid paying unexpected baggage fees by using an accurate luggage scale to ensure you keep within the weight allowance. Don't forget to leave room for souvenirs you have picked up on your travels. Look for Japanese pottery and porcelain, and if you love stationery you'll be spoilt for choice.
To use electrical gadgets you may need a travel adapter plug, and be aware of the voltage (100V) if this is different from your home country.
Japanese etiquette is a minefield, although they are tolerant and forgiving of tourists. Carry business cards, if you have them, and hand them (with both hands) to everyone you meet; be overtly admiring of the ones you are given.
More handy info about Japan
Here is your complete guide on what to pack for Japan. Choose the season you…
If you are heading to Japan in November, you have chosen a perfect time to…
Visiting Japan can be enjoyable no matter the season, as it is a country of…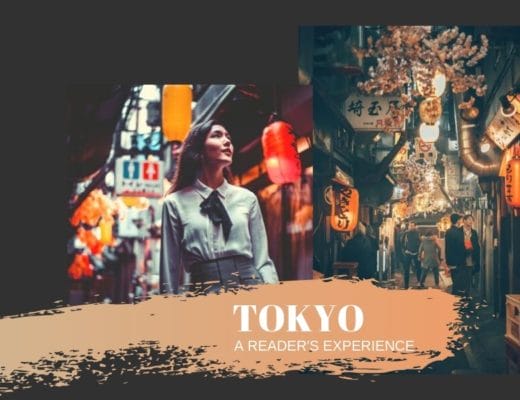 One of our readers – Radhika in India – recently enjoyed a trip to Tokyo…
Community photos of Japan
Here are some pictures taken on the streets of Japan by our lovely community members. Have you visited Japan? Share your awesome travel pics with us at hello@whattowearonvacation.com or comment about your experience below. Please note, comments get moderated for spam and may take a few days to appear. We would love to hear your best Japan travel tips.