This article was last updated in Jan 2023
Japan is a country rich in culture and tradition, making fashion choices an important element of preparation for a trip. Whether you're planning a trip to the bustling city of Tokyo or a more rural getaway to the Japanese Alps, we've got you covered with tips on what to wear in Japan.

---
Top style tips for Japan
Japanese style is relatively conservative as a whole. While you might imagine a penchant for more quirky, colorful attire, the outlandish fashion statements you see in Harajuku aren't typical for everyday wear. Aside from the more daring younger generation, most Japanese people dress modestly, in muted colors.
Neat and well-maintained is how you should aspire to look on your trip to Japan. Tatty looking clothing is frowned upon, especially when visiting temples, shrines, and traditional restaurants where it's expected to appear polished.
Layering is key for staying comfortable as the weather can vary greatly depending on the season. In the spring and fall, lightweight layers like a sweater or cardigan over a long-sleeved shirt will keep you warm during the cooler days and evenings.
In the winter, a coat or insulated jacket is a must, while a light raincoat or umbrella is always a good idea, as Japan is known for its sudden rain showers.
Versatile clothing items that can be dressed up or down are a great idea. Neutral colored tops and bottoms that can be easily paired with different accessories or outer layers will make it easy to assimilate into Japanese culture.
It's also important to consider cultural customs when dressing in Japan. Visitors should avoid revealing clothing when visiting temples and shrines, as these are places of worship and respect should be shown. Also, it's generally considered rude to wear shoes inside a traditional Japanese home or a temple.
Casual clothing is common in Japan outside of Tokyo's business district. Shorts, jeans, and camisoles are perfectly fine to wear as long as you don't plan on attending religious sites. While denim isn't a popular fashion choice for those beyond their teen years, black jeans are more acceptable due to their versatile nature.
COVID has ushered in a new wave of consistent mask wearing. While the rules around mask wearing are easing slightly as of recently, you should expect to wear a mask while on public transportation and generally anywhere you're within 2 meters of others. People tend to wear masks at all times when in public places, even outside. Although it's not required to wear masks outside, visitors should be mindful of this fact and do as the locals do when in doubt.
---
Shoes to pack for Japan
No matter what your itinerary is for a trip to Japan, one thing is for sure; you'll be walking…a lot! While the larger cities are well connected by public transportation (metros, buses, etc.) there's so much to see that walking is often the preferable mode of transit. Metro's, while well connected, often have long tunnels and pathways that you'll be walking through.
We can't emphasize enough how important comfortable walking shoes are, even better if they can be easily slipped on and off for visits to temples or restaurants that require you to remove them. Many streets in the historic areas of Japan are cobbled and temple grounds can be quite hilly. Packing a pair of shoes that will keep your feet happy during long days of sightseeing is essential. (try Hotter shoes, we love their styles and they are just so comfy).
While women in Japan do have a propensity for neutral colored heels, it's best to leave these for evening wear unless on business as the cobbled streets and long walking distances can be prohibitive to this kind of footwear.
Comfortable walking shoes are crucial when exploring the streets of Japan.
Footwear Etiquette in Japan
Removing your shoes before entering a home, traditional restaurant, ryokan, or onsen is essential on a trip to Japan. Not doing so is a violation of Japanese culture and is considered not only unsanitary but rude. Indoor slippers or sandals are often provided in areas where you are required to remove your outside shoes. Be aware that there are different types of slippers for different purposes. Wearing socks is also perfectly acceptable.
Japan is famous for its futuristic toilets and footwear etiquette will follow you, even to the bathroom. It is required to remove shoes when entering public conveniences. Plastic "bathroom slippers" are provided outside the door for you to wear while using the facilities.
Such customs are easily missed by first-time tourists. To show respect while having an incredible time, make sure to check-out our guide on Avoiding 12 of the most common mistakes first-time travellers to Japan make.
---
Japan Travel essentials
Make sure you're prepared with all the essential items you'll need to have a comfortable, safe, and enjoyable trip. To help you out, we've put together a list of 14 must-have items that you won't want to forget. From practical things like a travel adapter and a filtered water bottle, to fun extras like a Travel Sim Card and a neck pillow, we've got you covered with the Japan Essentials Checklist.
---
Clothing tips for Women
Casual: Women typically wear casual dresses, skirts, t-shirts, blouses, and pants or shorts on a day out of the office.
Business: A formal, conservative trouser or knee-length skirt-suit worn with tights in dark colors works well, but avoid an all black look as this is associated with funerals. Stockings are also typical in business settings. Revealing or sleeveless blouses are generally not acceptable as business attire, and frankly in everyday wear too. Business women typically wear minimalis, neutral makeup.
Shoes: Heels are a popular footwear option for women in Japan, especially for business meetings. Sandals are extremely common footwear during the summer and sometimes in shoulder season, weather permitting. Stylish tennis shoes are also acceptable year round.
Weddings: Colorful, modest attire is the most common outfit choice for women attending a wedding.
Funeral: Women typically wear a black dress that extends below the knee and covers their shoulders and chest.
Women should be wary of showing cleavage in Japan as it's often frowned upon and seen as unsightly.
Japanese women generally do not wear nail varnish.
Clothing tips for Men
Casual: Most men in Japan wear t-shirts and pants or shorts with stylish tennis shoes on a typical day out of the office.
Business: For men on business, pack dark colored suits with a blue or white shirt. Other colors are worn but blue and white are considered the most common. Wearing a tie is acceptable but optional on most occasions. Avoid wearing a black tie as it is associated with funerals. It's advisable for men to be clean shaven as stubble is generally frowned upon.
Shoes: Proper loafers are acceptable in business settings and stylish tennis shoes are common in a casual setting. Sandals are acceptable in a beach setting like Okinawa.
Wedding: Men's wedding wear in Japan is typically a dark colored suit, white shirt, and colorful tie.
Funeral: A black suit, white shirt, and black tie is typical men's funeral attire in Japan.
Business attire in Japan: opt for a dark suit with white or light blue shirt, a tie is optional.
---
Tips for first-time visitors
every country has its own way of doing things, and Japan is no exception. This guide goes through the 12 most common mistakes by first-time tourists and how to avoid them.
---
What to pack for all 4 seasons
What to wear in Winter (December, January, February)
Temperature & Rainfall in popular Japanese Cities during Winter
The weather in Japan during the winter months, typically December to February, can vary depending on the region. Generally, the northern and mountainous areas of the country, such as Hokkaido, are much colder than the southern and coastal areas, like Okinawa.
In the northern regions, temperatures can drop below freezing and snowfall is common. In the cities, such as Tokyo and Kyoto, the temperature ranges between 33- 50°F (1-10°C) and it's not uncommon for there to be snowfall, although it doesn't stay on the ground for long. The southern regions of Japan, such as Okinawa, are much milder during the winter months with temperatures averaging around 50-59°F (10-15°C). It's important to pack warm clothing as temperatures can drop in the evenings and it can become breezy.
Clothing Tips for Winter
When travelling in the winter, it's best to pack layers and warm clothing for a winter trip to Japan.
Take an overcoat, gloves, scarf and earmuffs. You won't see many Japanese wearing ear muffs but you'll be glad you packed them.
Make sure your winter coat is well insulated and preferably waterproof, as there can be quite a chill to the air. For men we recommend the Columbia Men's Frost Fighter Insulated Puffer Jacket.
Check out our complete Japan Packing List for Winter.
---
What to wear in Spring (March, April, May)
Temperature & Humidity in popular Japanese Cities during Spring
Spring is a great time to be in Japan but the weather can be variable. The early part of Spring (March and early April) is much cooler than the latter half. So you will need to plan your clothing accordingly.
The temperature in Tokyo during early Spring can be relatively cool. The morning and evening temperature hovers around 41°F (5°C) and the average temperature during the day is around 55°F (13°C). So, if traveling to Japan in March and early April, we would suggest packing gloves, a scarf and a waterproof jacket. You could also bring a travel umbrella to be well prepared for the rain.
By mid-April, the weather begins to clear and becomes warmer. You will see some mild days of around 66°F (19°C). But there is still a bite to the air in the early mornings and evenings, so you will need to be prepared. Be sure to pack some layering sweaters and a jacket.
May brings lovely mild weather with temperatures around 74°F (23°C) during the day and 59°F (15°C) in the early mornings and evenings. You can pack some lighter-weight sweaters for May, but we still recommend bringing a good quality waterproof jacket.
Check out this Japan Spring Packing list for a complete list of things to pack in Spring and a handy visual capsule wardrobe to inspire you.
Clothing Tips for Spring
Because temperatures can vary widely during the spring months in Japan it's important to bring clothes that you can layer.
Weather is often unpredictable and frequently rainy. Pack light layers like a cardigan or jacket that you can easily remove.
Wear lightweight fabrics as your first layer such as cotton, linen, or chiffon to keep you cool should temperatures rise. Bright colors, like pastels, are more acceptable in spring as it's a time of renewal and freshness.
Spring is a rainy season in Japan. We recommend packing a rain jacket and umbrella to keep you dry and warm.
Activity Ideas for Spring
Japan's cherry blossom season in spring is a popular time for tourists to visit and engage in the tradition of flower viewing known as "hanami". This involves picnicking under blooming cherry blossoms and enjoying food and drinks with friends and family. It's a great way to experience Japanese culture and witness the natural beauty of Japan. For the best places and times, check out our guide to flower viewing in Japan.
---
What to wear in Summer (June, July, August)
Temperature & Humidity in popular Japanese Cities during Summer
Summer in Japan can be hot and humid, with temperatures ranging from 77 to 95°F (25 to 35 °C). The weather in southern Japan can reach temperatures of 90°F (32°C) or more. As the climate heats up it's important to come prepared with breathable yet modest clothing. Here are some tips for what to wear in Japan during the summer season.
Clothing Tips for Summer
As summers in Japan can be sweltering, light and breathable fabrics like cotton, linen, and rayon are essential for staying cool and comfortable.
Likewise, light colored clothing can also help keep you feeling refreshed as it reflects the sun.
Loose fitting clothing is a good option as it allows the breeze to move through your clothing, keeping you cool.
The sun can be strong in Japan during the summer months. You'll see locals donning wide-brimmed sun hats to keep the rays off their skin.
Cooling accessories like neck wraps, bandanas, and scarves are also used and sunglasses and sunscreen are essential. (we love the Riemann P20 range for 10 hour protection).
Summer is the perfect time to break out your sandals or comfortable sneakers. Avoid heavy shoes and boots as they can make your feet hot and sweaty.
Summer storms can blow in at any time making it a good idea to bring a light raincoat or umbrella.
Take plenty of water with you when sightseeing.
---
What to wear in Fall (September, October, November)
Temperature & Humidity in popular Japanese Cities during Fall
Autumn in Japan is a beautiful time of year, with the leaves changing color and the weather cooling down. Temperatures generally hover between 50°F and 70°F (10° to 21°C) and can be humid or chilly. This is also considered typhoon season so be sure to bring along an umbrella in case an unexpected storm appears. The northern reaches of Hokkaido may start to see flurries as early as October while Okinawa is still enjoying temperatures around 75°F (26°C). Here are some clothing tips for what to wear in Japan during the autumn season.
Clothing Tips for Fall
Fall is another time of shifting temperatures in Japan. Layering is important as the weather can go from cool and crisp in the morning to mild during the day. It's a good idea to bring both a lightweight and warm sweater option.
Accessorizing with a scarf is another great option to not only stay warm should the temperatures dip but also to appear fashionable.
You'll likely be walking frequently to enjoy the stunning autumn foliage so it's essential to bring comfortable, close toed shoes.
Neutral colors are more common in fall and winter months. Beige, brown, and gray are great options to help you blend in.
The typhoon season ushers in heavy rains at times. Be sure to pack an umbrella and raincoat just in case.
For a complete packing list and capsule wardrobe for Japan in autumn check out our awesome Japan Fall Packing List
Heading to Japan in November? Check out our specific advice here: What to wear in Japan in November
---
What NOT to Wear?
Japan is a country that prides itself on being refined and orderly. The same should be reflected in your daily fashion choices if you want to blend in when visiting the country. Here are a few taboos to avoid on a trip to Japan:
Holes in socks. As you can imagine, you'll be spending quite a lot of time without your shoes on when indoors. Having holes in your socks is unsanitary and unseemly in a country like Japan that prides itself on sanitization. Be sure to pack relatively new, clean socks for your trip.
Revealing clothing. Temples and shrines are sacred places. Dressing modestly is important to maintain cultural customs and norms. Avoid things like tank tops, shorts, and mini-skirts. Opting for more conservative clothing is always a safe bet even if you don't plan to visit temples or shrines. It's also generally frowned upon for women to show cleavage.
Clothing with offensive messages or designs. Avoid wearing clothing with offensive designs or messages, particularly those that may be considered racist or discriminatory.
Tattoos. Tattoos are still associated with the Yakuza or mafia in Japan. Be sure to hide them with bandages if you want to avoid being turned away from onsens and ryokans. While they are growing in popularity it's still imperative that you keep them covered in most situations.
Swimwear. Swimwear is reserved for pools and beaches only and should never be worn in public places such as streets or temples. Swimsuits are generally banned in onsens as well although there are a few exceptions to this rule.
If on business, avoid dressing in all black suits. Wearing an all black suit combination (including with a white shirt) is generally reserved for funerals. Black ties are also associated with funeral wear and should be avoided if possible.
Clothing that is too casual: Japan is known for its fashion-conscious culture and it is considered disrespectful to dress too casually when visiting certain places like temples, shrines, and restaurants.
Temple Etiquette
While temples and shrines aren't as strict in Japan as other places in Asia, it's still of the utmost importance to avoid revealing or unseemly clothing. Women should avoid wearing tops that expose their shoulders or chest. While shorts aren't expressly forbidden it's important to dress modestly and anything below the knee is acceptable.
Onsen Etiquette
Onsen means hot springs in Japanese. These are traditional areas where locals and visitors alike come for the healing properties of geothermal water. There is a strict set of rules when attending onsens. Similar to onsens, ryokans are traditional inns that often include communal baths. The same rules apply to ryokans as onsens in this sense.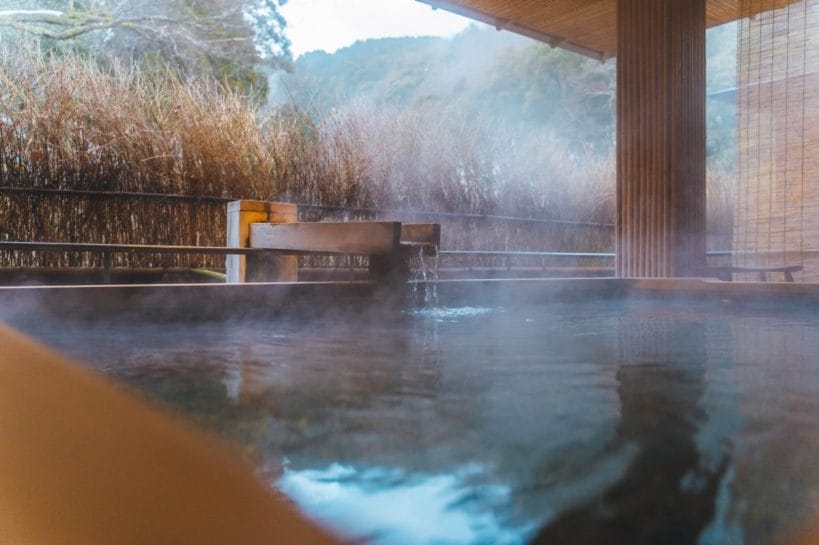 For some visitors, onsen etiquette can be confusing. Here are the best tips to avoid making a faux pas.
You must shower before entering the onsen.
Onsens are to be enjoyed nude. No need for bathing suits, in fact they're strictly forbidden in most onsens. Nudity is not seen as sexual like in some Western countries. If this is something that makes you nervous, many onsens have private baths as well.
Tattoos are still associated with the Yakuza, the Japanese mafia (organized crime), and forbidden in most onsens.
Hair should never touch the water in an onsen. For those with long hair it's important to bring something to tie it up such, keeping it well above the water.
Shoes are removed at the entrance to the onsen. There is no need to bring sandals as going barefoot is the standard.
---
Things To Consider By Region
The climate in Japan can vary vastly from region to region and by season. From subtropical islands in the far south to the deepest snows on Earth in the north, Japan can surprise those that aren't prepared for the weather. Here are a few things to consider if you're venturing further from the main island of Honshu.
Okinawa (& Amami)
Okinawa and Amami, are subtropical islands in far southern Japan. Their proximity to the equator means that the islands enjoy warm weather year-round. Winters are mild enough that a light jacket is more than enough protection, winter coats aren't necessary.
Honshu, Shikoku, & Kyoshu
Honshu is the main island of Japan including Tokyo and Kyoto. This island has the most mild weather of them all although the four seasons are distinct. Summers can be sweltering and winters bitter cold. Shikoku and Kyoshu, the other large neighboring islands to Honshu, are relatively the same weatherwise.
Hokkaido
Hokkaido is Japan's northernmost island and sees some of the heaviest snowfall in the world. This should be taken into consideration in winter should you decide to venture north. In fact, the town of Aomori is said to be the city with the largest amount of snow in the world. Temperatures can reach a low of -22°F (-30°C) in the months of December, January, and February. This being said, it's important to prepare for snow when visiting Hokkaido in winter with snow boots, hats, gloves, and long, insulated coats.
---
Traditional Japanese Clothing
Traditional Japanese clothing is a must-try for any visitor. Kimonos and yukatas are elegant and timeless garments that are perfect for special occasions like temple visits or tea ceremonies. Ryokans typically provide yukatas for their guests and they can be worn everywhere inside and even on trips to the surrounding town.
Walking around in a rented Kimono around Kyoto is definitely a must try experience!
Traditional garments can be rented in many tourist areas and often come with the services of a professional dresser to help you put them on properly. This is especially common in Kyoto, the city famous for geisha. Some places in Japan, like temples and shrines, may even require visitors to wear traditional clothing. If you plan on visiting these places, it's a good idea to rent or buy traditional clothing to show respect and blend in with the locals.
---
More handy info about Japan
Here is your complete guide on what to pack for Japan. Choose the season you…
12 golden nuggets of advice that are sure to make your visit to Japan nothing short of a fantastic adventure!
If you are heading to Japan in November, you have chosen a perfect time to…
Visiting Japan can be enjoyable no matter the season, as it is a country of…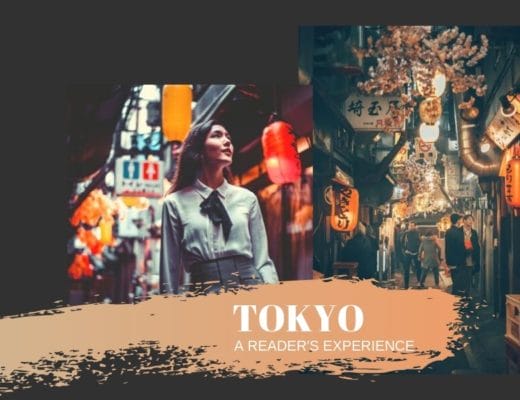 One of our readers – Radhika in India – recently enjoyed a trip to Tokyo…