Here is your complete guide on what to pack for Japan. Choose the season you are visiting to get a complete packing checklist, a capsule wardrobe suitable for the season and advice on packing for Japan.
Travel essentials to pack all year round
Travel Insurance: Don't forget to secure a reliable insurance plan before you jet off! be it lost luggage, unexpected health issues, or trip cancellations. Compare various insurance providers here.
Valid passport (check expiry date carefully to ensure it is valid for the duration of your stay and make sure you have at least one blank page available)
Copy of flight details, boarding passes and airline tickets
Hotel reservation details, including hotel address (you will need the address of the hotel to fill out customs forms, make sure you have it handy)
Visa (usually required for stays longer than 90 days. Check carefully if you require a Visa before you depart)
Hotel transfers details (if you have pre-booked your hotel transfers ensure you have the details easily accessible)
Cash, credit cards and traveler's checks
ID (drivers license, social security number etc.)
In addition to these basics and to make your trip more comfortable, safe, and enjoyable, we've put together a list of 14 must-have items that you won't want to forget. From practical things like a travel adapter and a filtered water bottle, to fun extras like a portable Wi-Fi device and a neck pillow, we've got you covered with the Japan Essentials Checklist.
---
What to pack for Japan in Summer 2023

Summer Japan packing list
Packable waterproof jacket
Comfortable walking shoes
7 lightweight cotton/bamboo tops
2 lightweight sweaters
Shorts
Skirts
1 pair of heels
Jeans
Lightweight cotton trousers
sleepwear (lightweight)
Undergarments
2 dressy outfits
Socks
swimwear (1 piece recommended over bikinis)
---
What to pack in fall for Japan

Fall Japan packing list
Waterproof foldable jacket (choose one that folds easily, ideally with a travel pouch so you can store it in your bag)
Optional: dressier trench coat/jacket for going out
1 Wrap/cardigan
3 Knits/sweaters
5 layering tops
Comfortable walking shoes
1 pair of heels or ankle boots for going out
Jeans (dark navy or black is recommended)
3 Mid-weight pants
3 dressy outfit combinations
Undergarments (one per day is ideal)
Socks (choose socks in good quality as you will be required to take your shoes off in many establishments)
Sleepwear
Activewear if you plan on working out
Swimwear (check if required)
woolen hat/ beanie (it can get quite chilly in some regions and a beanie won't take up much room in your suitcase)
leather gloves (optional, check the forecast for the regions you plan to visit)
Travel umbrella
Foldable travel backpack or tote (to carry your daily essentials in)
---
What to pack for Japan in winter
Japan Winter Capsule Wardrobe
Winter Japan packing list
Insulated, waterproof winter coat (we love the Patagonia Women's Down With It Parka)
5 winter knits (merino wool is a great option)
7 layering tops (choose some casual, breathable long-sleeve tops and some dressier options. Super lightweight merino wool LS tees are a great option)
thermal under layers (optional)
Gloves
Winter hat (beanie)
Waterproof walking shoes/boots
Dressy heels (boots preferable)
Jeans (clean denim jeans, in black or very dark navy, are more popular)
Winter weight trousers
Undergarments (aim for one per day)
3 dressy outfit combinations
Socks (make sure they are in good shape as you will be taking shoes off on a number of occasions)
Swimwear (check if your accommodation has swimming facilities)
Activewear (if you plan to work out)
Sleepwear (no need for anything too heavy)
---
What to pack in Spring for Japan

Japan Spring Capsule Wardrobe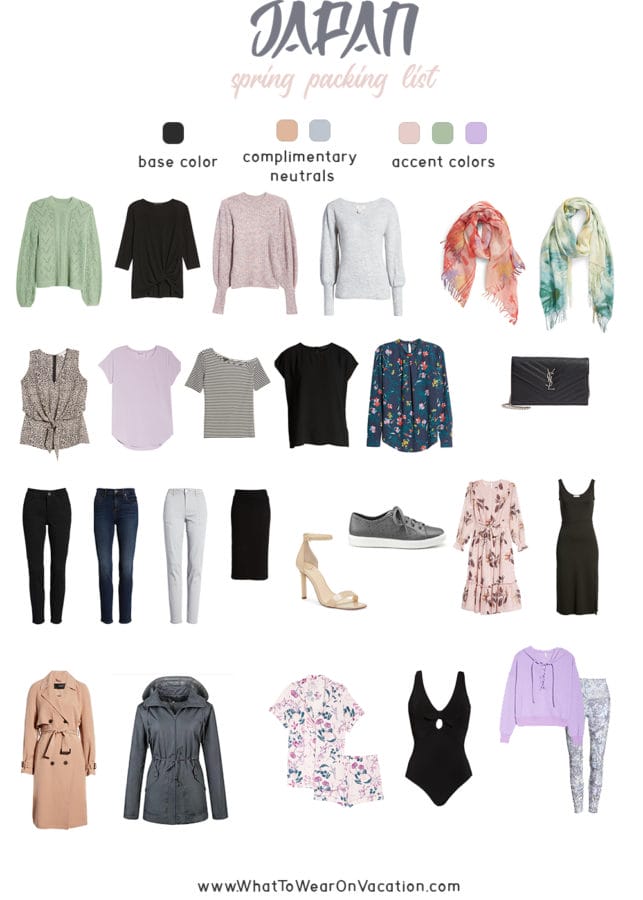 Spring Japan packing list
Waterproof foldable jacket
Comfortable walking shoes
1 pair of heels
4 lightweight sweaters (The early part of spring is much cooler than the later months. So pack heavier knits if traveling in March or early April)
Jeans
Lightweight Pants
Undergarments (I like to pack one per day)
3 dressy outfit combinations
Socks (check that your socks have no holes and are well maintained as you may visit venues where you are asked to remove your shoes)
Swimwear if required (we recommend 1 piece over skimpy bikini sets)
Sleepwear (lightweight)
---
Things to consider when packing for Japan
Your itinerary
Your planned itinerary will drastically impact the items you need to pack on your trip to Japan.
An urban-based vacation visiting local tourist attractions will require different clothing to a more adventurous itinerary focused on trekking and hiking. If you are planning on hiking, your packing list will be more geared around outdoor adventure. Check out our Capsule wardrobe for Hiking for some tips on what to pack.
If you are traveling to Japan as part of a cruise, your packing list will vary slightly as there are additional dress requirements that are specifically related to cruising. You may be part of a cruise that has a form dress code in the evenings or specific costume requirements to consider. If you are cruising you can check out our advice on Capsule Wardrobes for a Cruise.
If you are taking part in an all-inclusive tour package, check your itinerary carefully and consider what type of clothing will be required for each of the planned activities. Some tours may include fine dining experiences which will require dressy outfit options. Other options may include long walking tours in various terrains that may require specific footwear/ clothing.
Also, consider the dress code related to your accommodation. Upscale hotels may have more formal dining options that may require you to bring formal outfit options. For men, this may mean you will need to pack a blazer.
Active weather forecast
The packing lists offered above are based on common trends in Japan for each season. However, it is very much worthwhile to check the weather forecast a short time before you visit, to ensure there are no unforeseen changes in the weather. This will give you the option of changing your packing list to suit the most recent live forecast.
---
What not to pack for Japan
For a summary of banned items in Japan and an overview of the customs clearance process, you can check out the Japan Customs Page.
As well as the important items banned by customs, here are some other items I would avoid packing for Japan:
2 piece skimpy bikinis (slightly more conservative 1 piece swimwear will be deemed more appropriate, particularly in hotel swimming pools)
Overly revealing tops that show too much cleavage or your midriff (these will be frowned upon in many situations)
Ultra-short skirts (above the knee is totally fine but avoid any skirts or dresses that are overly revealing)
Socks that are worn out (you may choose to visit traditional venues that will require you to take your shoes off)
Worn-out, scuffed or ratty looking clothing (shabby clothing is frowned upon in Japan, where a well-groomed appearance is appreciated. Aim for clean, well-maintained clothing and keep you well-worn tracksuits at home)
---
Handy apps and technology to consider
Japan translation app downloaded to your smartphone (might come in handy when navigating your way around). Find one that also translates menus and signage, it will make your life much easier.
Japan digital tour app (or guide book if you are old school). Having a tour map on your smartphone is such a valuable way to get the most out of a destination, particularly if you are planning a self-guided travel experience. Find one that displays points of interest and information on a map, for ease of use and finding your way around.
Make sure you also check out our guide on What to Wear In Japan for more general styling advice and pro travel tips.
Have you got something to add? Do you think there is anything missing or worth mentioning on the Japan packing list? Mention your top tips below.