Top style tips for China
When planning what to wear in China, opt for neat, tidy, clean and conservative clothing.
The Chinese people appreciate it if you dress up and you will rarely find a Chinese woman older than a teenager in jeans.
Our advice is to pack casual, lightweight layers that aren't too revealing. Light cotton clothing that is easily washed and not too delicate is ideal.
Light wool is a good choice to wear against your skin as it naturally helps to regulate your body temperature. It keeps you warm in the cold, wicks away moisture when it's hot, and doesn't retain odours – even after prolonged wear.
You can purchase almost any kind of clothing in China although the sizes are far smaller than Westerners are used to. When buying Western brands expect to need a couple of sizes bigger than you might at home (and do try things on before you buy). If purchasing from street vendors you may struggle to find sizes to fit.
Bright colors, in general, are popular, and especially red which is considered lucky.
If you are looking for a highly versatile travel jacket to bring along we recommend the SCOTTeVEST range. Their range of jackets have been specifically designed with traveling in mind and include RFID security (to protect your passport information), 23 secure pockets and personal connectivity integration.
---
Shoes to pack for China
A good pair of comfortable walking shoes and stylish flats are highly recommended. We love Hotter shoes, for total comfort along with style.
Don't expect to buy shoes in China – the average Chinese person has far smaller feet than the average Westerner so you may not find any to fit.
---
Pack for the weather
In the winter (December, January and February) most parts of China would be cold, especially in the north. Our advice would be to wear layers. Padded jackets are a great buy in China (but bear in mind the sizing will be smaller than you are used to).
For travel during the rainy season of May, June, July and August, a light raincoat is recommended.
Take your sunscreen (we love the Riemann P20 range for 10 hour protection) for summer months (June, July, August) as it's difficult to buy and you can't be sure of the quality.
An umbrella is useful protection against both sun and rain, but buy one when you get there – they are readily available and cheap. Or you can pack a travel umbrella, as it will be easy to store and carry around in your bag when you are not using it.
We love the Weather+ app – it gives an accurate 6 day forecast for day and night, which when you're planning from home is really helpful. You can keep all the places you've been to too – a nice way to remember your trip 🙂 Download for iPad/iPhone or Android
Top Tip: packing a travel umbrella is handy as it is far smaller than a regular umbrella, so you can keep it stored in your bag for when you need it, .
Clothing tips for women
Trousers are a must, since many temples will forbid entry to women wearing skirts.
For Westerners, we would advise you to pack enough underwear, as Chinese women are a lot smaller and even their large size is small by Western standards.
If you are taking swimwear opt for a one-piece rather than bikini to avoid being stared at and feeling vulnerable.
Pack one smarter outfit for more formal dinner invitations or if you have plans to visit the opera or concerts.
And a versatile pashmina will keep you warm, act as a modesty cover and will 'glam' up any outfit when you need it.
For business, women can wear pants- and skirt-suits, or a dress – are all acceptable business attire.
Clothing tips for men
Avoid wearing green hats, as the Chinese are very superstitious and there is a saying that if a man wears a green hat then his wife has cheated on him!
If you are in China on business then wear a suit but not a tie, or if it's very hot then tailored shorts are acceptable.
---
Regions of China
China is a huge country with varied climates. In general, the north is cold and dry in winter. In the south, summer is very hot and humid. So what to wear really depends on where and when you are visiting.
Bejing, Xian and Shanghai are very fashionable and have adopted Western fashion, but leave shorts and revealing tops at home.
In the countryside dress is far more reserved so do keep covered.
If visiting The Great Wall there is a very good chance of rain, because it is so high. You may like to take a light raincoat and umbrella, but if you forget you can easily buy a disposable plastic overcape for the equivalent of $1. They may not be that attractive but lots of people wear them. Also wear comfortable shoes with good grip, as it can get slippery in the rain and sections of the wall are very steep.
In the north in the cold weather you will find houses and hotels all have central heating. However in the south of China this is not the case, and houses and even hotels can be freezing cold and humid so everything feels damp and very cold.
---
Travel essentials to pack for China
As well as planning what to wear in China, it is crucial to also pack useful travel accessories that will come in handy of your adventure.
The internet is very restricted by the Great Firewall of China, and you will not be able to access anything Google related or your regular social media sites. To get around this we recommend combining a VPN app with a portable WiFi device.
The tap water in China is not safe to drink. Consider taking a LifeStraw Filtration Water Bottle that filters out bacteria and parasites without the use of chemicals.
Pack toilet paper and hand sanitizer; even in smart malls and restaurants bathrooms in China aren't great and rarely will you see toilet paper or hand washing facilities. In the countryside they are even worse – so be mentally prepared!
Whilst most things are readily available dental floss and deodorant aren't (in some regions), so be sure to pack plenty.
Also, take your own medicines e.g. Paracetamol because you can't buy regular Western medications in China.
With flights, transfers and delays there will be plenty of time spent sitting around, so we'd suggest you take a Kindle or e-reader to pass the time
A bag or soft-sided rucksack is a more practical option than hard cases when traveling around the country, and using packing cubes can help to keep your belongings tidy whilst compressing the volume too.
Combine your main bag with a backpack or shoulder bag that will carry your sightseeing essentials.
To use electrical gadgets you may need a travel adapter plug, and also a step down voltage converter if your devices are not designed for the local voltage (220V).

If you plan to bring along electrical gadgets such as camera cards, USBs, chargers, power banks and travel adapters, keep them well organized and secure using one of these handy digital organizers.

Avoid paying unexpected baggage fees – use an accurate luggage scale to ensure you keep within the weight allowance. Don't forget to leave room for souvenirs on the way home! Look for porcelain (particularly from Jingdezhen), embroidered silk slippers or silk pyjamas.
You will need to show your passport for many things including most tourist attractions and buying train tickets, so we suggest you carry it at all times.
China Blog posts you might like
One of our readers – James in the UK – wrote to us to tell…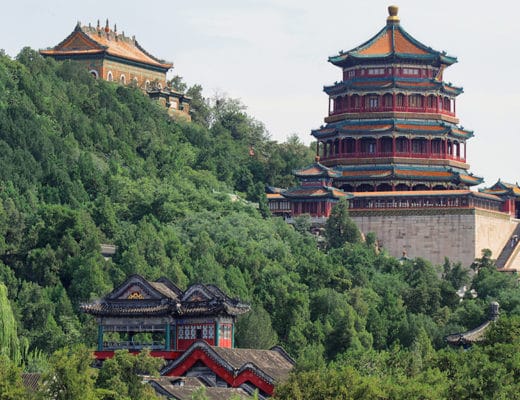 Thanks to our Member Huan for sending in these tips about her home city. 1.…
Community photos of China