Top style tips for Spain
When deciding what to wear on your vacation to Spain, remember the Spanish locals really care about their personal appearance and image. On the whole, they dress conservatively and make an effort when they go out, even if it's just doing the daily shopping.
Jeans are very popular here in every style and worn throughout the year and will serve as a versatile base to your wardrobe. Wear them with cool layers such as camisoles or a t-shirt and light cardigan for the summer, or warmer ones e.g. a long sleeved shirt and sweater in the winter.
Church is still an integral part of Spanish life and wearing shorts or being scantily dressed while visiting a church will not be appreciated.
Spring and Fall are cooler and dressing in layers will help you cope with the temperature changes. Clever layering is the key to dressing for changeable weather.
If you are visiting in the spring or Fall it's worth bearing in mind that although you may view the temperatures as warm (if you're used to cold winters), the locals don't. So if you want to blend in, then dress as they do. Opt for sturdy shoes or boots, pants, sweaters, scarf and a jacket.
If you are looking for a highly versatile travel jacket to bring along we recommend the SCOTTeVEST range. Their range of jackets have been specifically designed with traveling in mind and include RFID security (to protect your passport information), 23 secure pockets and personal connectivity integration.
---
Shoes to pack for Spain
Make sure you take comfy footwear for daytime – we love Hotter shoes, for total comfort along with style.
Remember the Spanish love shoes, and for them a pair of shabby shoes can let down a whole outfit. Why not try the Lindsay Phillips Switch Flops range – using interchangeable shoe and flip-flop bases with snap-on decorations, you can change your look from day to evening in an instant whilst still packing light.
If you're hiring a car, note that it is illegal to drive whilst wearing sandals or flip flops.
---
Clothing tips for women
In the evening, local women dress more stylishly, particularly when dining out. If you are going to an average to high quality restaurant, you'll be more comfortable wearing something more dressy.
Our advice would be to save your shorts and sarong for the beach; wearing them elsewhere will label you as a tourist. Also, skimpy or tight-fitting clothes may result in unwanted attention. A loose cotton shirt makes a great cover-up over swimwear and looks equally good away from the beach too.
If you're going to visit any religious sites then be sure to cover your shoulders and bare legs – a pashmina can come in handy for this.
If you are going to Spain for business then pack your work clothes – Spanish women wear dresses or skirts.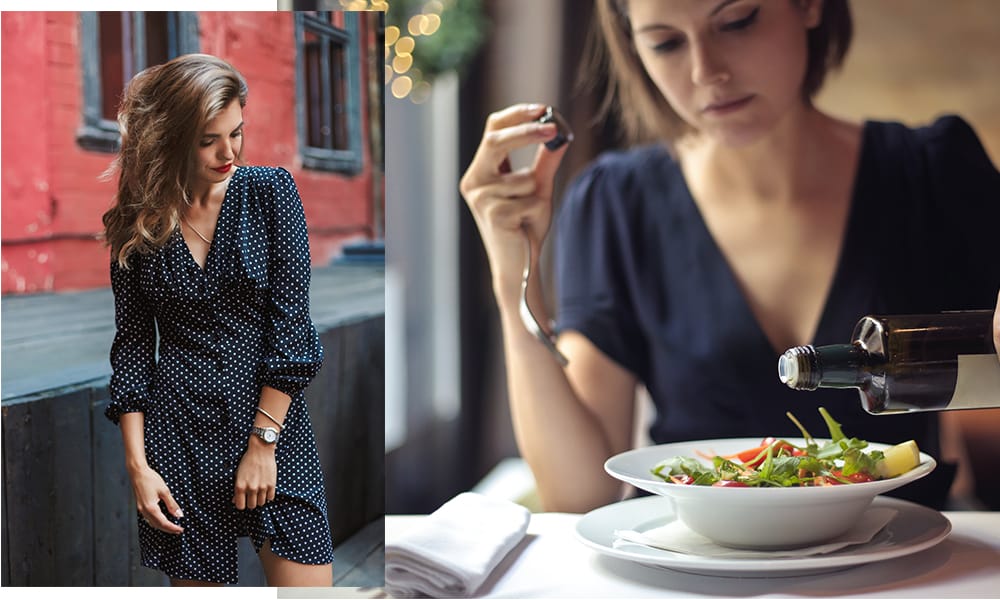 Spanish locals dress up when visiting nice restaurants and bars. Make sure you pack a few dressy options for going out.
---
Clothing tips for men
If you're looking for versatile and stylish beachwear, try the Madda Fella range of shirts, shorts, polos and swimwear.
For business men will be expected to wear jackets and ties, even if it's hot.
For great versatile travel jackets with multiple pockets including RFID security options, we love the SCOTTeVEST range.
Top tip for men: pack some relaxed linen shirts for the warmer months. Long sleeve linen shirts provide great protection from the sun, are very breathable and can be dressed up for restaurants and bars.
---
Pack for the weather
Before deciding what to pack for Spain, remember that the temperature and climate vary significantly between seasons and even between different regions. Use an accurate weather app to research weather patterns in the regions you plan to visit.
We love the Weather+ app – it gives an accurate 6 day forecast for day and night, which when you're planning from home is really helpful. You can keep all the places you've been to too – a nice way to remember your trip 🙂
Spring in Spain
Spring (March, April, May) – It's cooler, and dressing in layers will help you cope with the temperature changes.
Summer in Spain
Summer (June, July, August) – Wear sunglasses, a sunhat and plenty of sunscreen (we love the Riemann P20 range for 10 hour protection).
You don't need to be too modest when visiting Spanish beaches. Revealing two-piece swimsuits are embraced. Just pack a swimsuit you feel comfortable in.
Lightweight summer dresses: pack a couple of cotton summery dresses. They are perfect for the beach, exploring the town or even dressing up in the evenings with some jewellery and dressy sandals.
Fall in Spain
Fall (September and October) – Also cooler so dress in light layers.
Winter in Spain
Winter (November, December, January, February) – The weather can be cold, so opt for warmer layers.
Rain showers are more likely in spring and winter, so you may like to pack a small travel umbrella.
---
Regions of Spain
If you are planning on visiting Madrid in the winter it can be cold with severe winds – so a heavier type of overcoat will be needed with a warm scarf, gloves and hat or ear muffs.
La Manga is all about sport; during the day most of the people wear sneakers, jogging pants or shorts and a sports top. In the evening, in the main, it stays pretty casual but definitely at the smart end of casual. There are some notable exceptions, which you'll be glad you dressed up a bit more for… dining at the hotel and at Asia, to name a couple.
---
Other things to pack
A lightweight day sack or shoulder bag will come in handy to carry your sightseeing essentials.
If you tend to buy bottled water, consider carrying a LifeStraw Filtration Water Bottle – fill up from any source and get clean, safe drinking water without wasting plastic bottles.
Look after your mobile phone with a phone bunjee – it protects against loss, theft and damage.
To use electrical gadgets you may need a travel adapter plug, and also a step down voltage converter if your devices are not designed for European voltage (230V).
If you're aiming to travel with just carry-on baggage, try the CabinMax soft-sided rucksack – it's light, roomy and has plenty of pockets to keep your stuff organized. You can use packing cubes to compress the volume too.
Avoid paying unexpected baggage fees – use an accurate luggage scale to ensure you keep within the weight allowance. Don't forget to leave room for souvenirs on the way home! Leather goods and shoes are great buys in Spain, as are wine, sherry and olive oil – but you will need to pack these liquids in checked-in luggage unless you buy at the airport duty-free.
Community photos of Spain