Whether you're a voracious bookworm or just trying to catch some zzz's, what's in your carry-on bag is essential to your in-flight enjoyment. Packing the essential items will relieve stress and boost comfort on your travel day. Items like noise-cancelling headphones, an eye mask, and a neck pillow are the ultimate trifecta for sleeping soundly midair, and you can't forget essentials like your travel documents and medication. We've concocted the perfect list of what to pack for a stress-free journey in a succinct and lightweight pack. Here are our 11 must-have items for your carry-on bag!
The Essentials
So you're ready to hop aboard your next flight but scratching your head about what exactly to pack in your carry on bag. These are the can't forget essentials that everyone needs to double check they have before departure!
Passport

: The ever-important documentation for I.D. and getting through customs, you can't forget your passport. A risk that's often overlooked is that most passports have a wireless chip inside that contains detailed personal information. Keep it safe and protected with

this passport wallet

that includes an RFID blocker for identity and credit card protection. It also has extra pockets to store your cash and phone, all under wraps.

Travel Documents

: If travelling post-COVID has taught us anything, properly organising your travel documents is paramount! Bring a sturdy folder or protected plastic sleeve to stow away your important documents for safekeeping.

Medication

: Nothing is worse than a mid-flight migraine or arriving at your destination without your much-needed medication. Come prepared by bringing your medicines in their original bottles, with a doctor's prescription if necessary. It's also important to double-check that your end destination allows certain medications.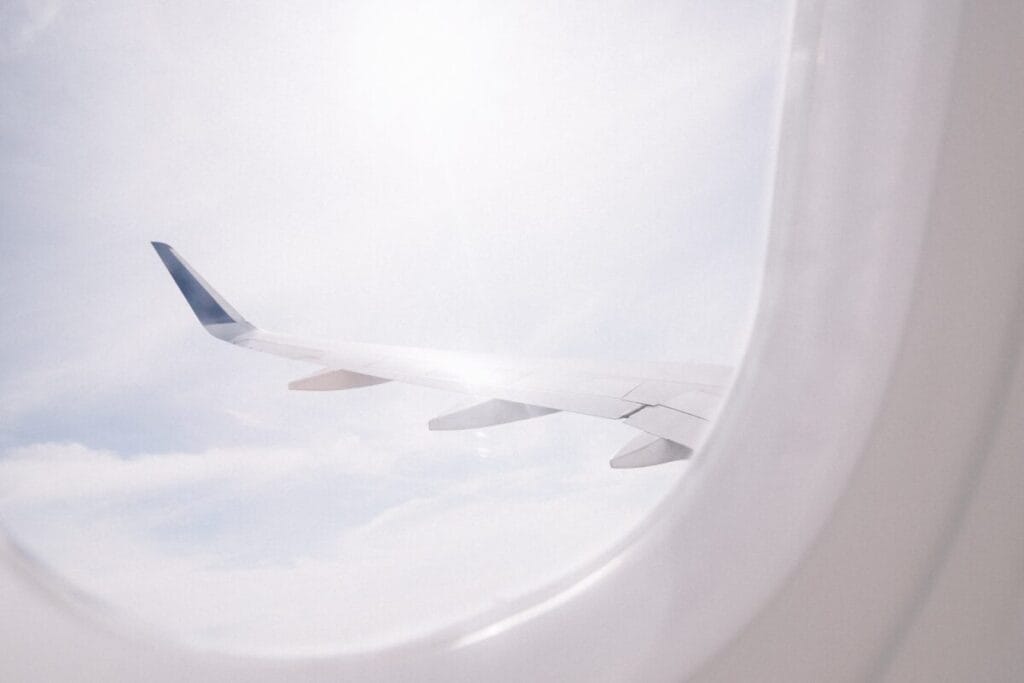 For your comfort
Aside from ensuring you bring your essential travel documentation and I.D, comfort is key! Here are a few items we recommend you bring along, especially for long-haul flights when sleeping will ensure you arrive well-rested and ready to explore!
Neck Pillow: A sound sleep system while travelling can be the make-or-break component of getting off on the right foot for your trip. Finding the perfect neck pillow is vital to staying comfortable on long flights, especially those where you'll want to sleep. A few good rules of thumb for finding the best neck pillow are to look for one that is supportive, ideally made with breathable cotton fabric, and collapsible for easy storage in your carry-on bag.
Eye Mask: Lights are always turning on and off unexpectedly on long-haul flights and other guests might cause light disturbances like opening windows or turning on bright electronic screens. An eye mask is a great tool for shutting out the world and getting some shut eye. Look for an eye mask with cooling gel inside to prevent your eyes from getting puffy during long distance flights!
Earplugs: When you're tired of listening to music and are ready to sail off to dreamland, earplugs are imperative! Most earplugs are already packaged in small plastic bags for sanitary reasons. Bring a few pairs on your trip to block out your fellow passengers. They might also come in handy at your final destination as well.

Passing the time
Nothing makes a flight fly by more than coming prepared with endless entertainment options! Here are a few items we recommend for keeping busy midair.
Noise Canceling Headphones

: We've all been there. Trapped on a long haul flight with a crying baby, or even worse, someone snoring in the seat next to you. The solution? Noise canceling headphones! Not only will you be able to block out noises from your fellow passengers but you'll also be able to watch movies, listen to podcasts or music, and drown out any and all sound.

Apple Airpods Pro

can fit in your pocket, unlike bulky over ear headphones, but provide high quality noise cancellation and sound quality.

iPad

: Your one stop shop for midair entertainment, bringing an iPad on board gives you the ability to watch TV shows, read an ebook, listen to music, and fit in some work all in one device. Download entertaining games or even a coloring book for a soothing and meditative experience on your next flight. Be sure to bring a case for your iPad to prevent the screen from getting smudged or scratched while going through security. Having a laptop sleeve in your carry on bag will help support your iPad through transit as well.

Book

: There's nothing better than a classic book to pass the time while airborne. Bring along a novel that's based in your destination for a great sneak peek at its history and culture!
Snacks and Hydration
Staying hydrated during a flight is one of the best ways to fight jet lag and make sure you arrive feeling relaxed and fresh. Flying is naturally dehydrating and draining and those who are prepared will be thankful. Make sure to bring a carry on with a water bottle holder and keep loose snacks in smell proof packaging. Healthy, protein rich foods are also a great way to fight hunger and keep you satiated before your next meal. Here are a few things we recommend to bring along so your stomach isn't growling and you aren't waiting around for drink service!
Refillable Water Bottle: Packing a

refillable water bottle

is absolutely essential for flying. We recommend bringing along a water bottle that filters out harmful bacteria and parasites, especially for destinations where the tap water might not be safe to drink! Now you'll be efficiently hydrated in any situation.
Healthy Snacks: Healthy snacks like trail mix, crackers, and beef jerky are all great options for long flights where meals often leave you craving something more. Snacks that are high in protein, like nuts, will keep you satiated longer and help balance blood sugar for happy tummies in the sky!

Travel-Size Toiletries
Having a few travel-size toiletries ready to go in your carry on can make all the difference inflight. Having the option to brush your teeth and freshen up with moisturizer can be life changing in the dry cabin air.
Travel Size Toiletries

: Nothing leaves you feeling more grimey after a long flight than fuzzy teeth and dry skin. Be sure to pack a few essential travel size toiletries like toothpaste and moisturizer to revitalize during your flight. Store these items in a plastic bag to prevent any explosions and don't forget a travel size toothbrush to keep your pearly whites feeling fresh!
Additional Items
Now that you have your list and you're ready to pack your carry on, here are a few more things to keep in mind depending on your trip.
Portable Battery Pack

: Bringing a

portable battery pack

is crucial for keeping your electronics charged and ready to go on a long flight. Arriving to your destination with a dead phone or tablet can be a disaster and leave you frantically searching for information. Having a backup charger ensures you land prepared and confident. Downloading an eSim for your destination is another great way to be sure you land with phone service if traveling internationally.
Change of Clothes

: Nothing is worse than finally arriving at your destination only to realize that your checked bag has been delayed or even worse, lost! Packing an extra set of clothes ensures you have at least one other clothing option and gives you peace of mind should something happen to your main luggage.
Packing a carry on is crucial to your comfort in flight. Our list of the best things to bring in your carry on will ensure you'll be well-prepared and have a pleasant, enjoyable midair experience. Overall, the perfect carry on is small and easily fits under the seat in front of you while still allowing ample room for you to stretch your legs. Multiple pockets are another great feature that helps to store and organize these important items efficiently. We hope you feel raring and ready to go with our ultimate list of what to pack in your carry on. Do you have any carry on packing tips that you swear by? Let us know in the comments so we can all share our best packing tips!