White sneakers are a staple item of any capsule wardrobe. They are so versatile, they can take you from a relaxed-casual look to a fun night out with friends. Here is your guide on how to style your favorite white sneakers. We will be featuring these gorgeous Switch Sneakers, by Hotter, and showing you how the same sneakers can be styled to create 4 totally unique looks.
Chic, Effortless Style
For an effortlessly elegant look, style your white leather sneakers with a form-fitting knit dress, in a neutral color. Look for fabrics high in merino wool, cashmere, and natural fibers. Choose a dress with interesting design elements like a side split, or rib detailing to add a spark of interest. Pair your dress with a quilted, cropped leather jacket. The cropped style adds a nice sense of contrast between the long dress and the short jacket. Choose premium, minimalistic accessories to convey a sense of understated sophistication.
Relaxed Vibes
For a relaxed outfit, opt for some high-waisted relaxed-leg jeans and a croped cotton tee. Choosing jeans with built-in belt loops is a great way of adding a splash of color with a vibrant belt. Try to stay away from the denim-on-denim look, it is getting a little tired. Instead, experiment with a short puffer or faux fur jacket. A high-quality cross-body bag, tote, or slouchy hobo all work well with this style. Complete the look with some minimalistic hoop earrings.
Casual Drinks With Friends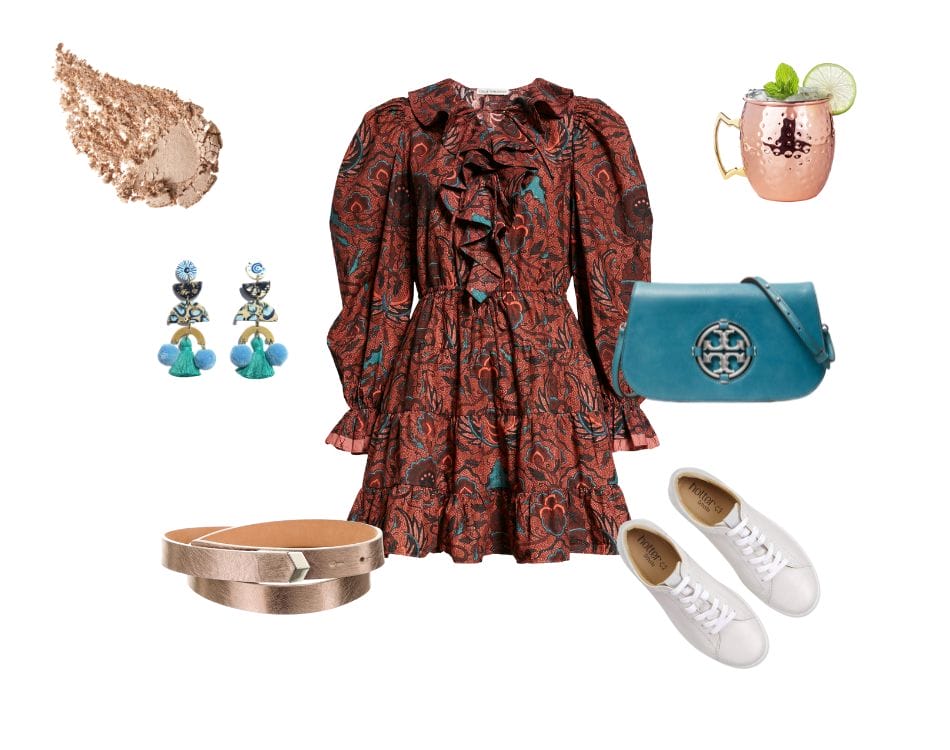 For fun, flirty drinks with friends use your white sneakers to dress down your favorite statement dress. Bring on the bold, accessories! Experiment with bright colors, metallics, and playful accents to bring an element of fun to your outfit. Try a hint of highlighter on your skin and eyeshadow to create a dewy, shimmering complexion.
Urban Adventure
To kick off your urban adventure, pair your white leather sneakers with a statement bomber jacket. Experiment with bold prints, zip detailing, or distressed elements for a trendy and contemporary vibe. Wear with a side split, ribbed-knit skirt in a neutral tone and your fave designer tee. Try a belt bag worn across your body for a fresh and edgy look.
What is your favorite outfit and how do you like to style your white sneakers? Comment your ideas below: