As this was to be our only full day in Vegas we decided not to spend it around one of the stylish and opulent pools at Caesars Palace, but to walk The Strip and take in as many hotels as we could.
So today I'm wearing cropped jeans with a sleeveless top, flat Toms shoes and a jacket. Steve wears walking trousers, a polo shirt, and Timberlands.
First though we started with the shops at The Forum in Caesars; exclusive names such as Tiffany, Gucci and Prada all packaged up in an opulent and OTT setting where it felt and looked like late afternoon all day. Huge fountains and statues add to a Grecian theme, it's mind-blowing and well worth a look. It's spread over 3 floors and you won't be disappointed.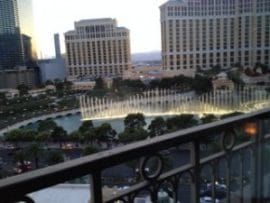 For six and half hours we walked up and down The Strip from the opulent Venetian with its gondolas and singing gondoliers (and where we had morning coffee, which was delicious) to the flamingos and pelicans at the Flamingo Hotel. Mirage with its erupting volcano. The Bellagio with its famous dancing fountains. Planet Hollywood with its mile of indoor shopping with lighting and thunderstorms inside! And so much more besides. They even have the High Roller – the world's tallest ferris wheel at 550 feet.
Most people didn't surface until very late morning, so at first it was easy to get around but as the afternoon came it was busier and busier. With 8 lanes of traffic driving through the centre of the strip the sky high walkways were a godsend, but they also ensured you wandered through and passed all the hotels and casinos. There were people playing slot machines from morning to the early hours of the following morning, and all ages were there. There seemed to be something a bit unsavoury about seeing young children exposed to all this excess. The whole place is designed to extract as much money from you as possible, every second you are awake.
Back at the hotel to rest our weary legs we had an hour to get ready for dinner at The Eiffel Tower restaurant, at the Paris hotel. Again I had booked this ahead, direct with the restaurant, and requested a table by the window. As these are mostly set as tables for two we were lucky to get one overlooking the Belagio fountains, which from 7.30 pm produced their display every 15 minutes, each time different and quite spectacular. At the Paris there is a lift that whisks you straight up to the restaurant floor where you are met by someone who escorts you to the restaurant and bar. This is an expensive restaurant with a dress code (they request that men wear jackets but a lot didn't) so be prepared. After dinner we walked back along the Strip to Caesars and to bed – passing acres of gambling tables and people only just warming up for the night in this 24 hour party town.
——–
Posted by Helen – WhatToWearOnHoliday.com