Lucky enough to be invited to a Christmas party in Marlow, I was looking forward to exploring this riverside town the next day.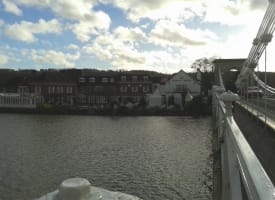 Marlow is situated in Buckinghamshire and boasts the river Thames running through the centre. Our hotel The Compleat Angler was right on the river bank itself – a stunning spot with gorgeous views. We were lucky enough to experience clear skies during our visit to make the most of the scenery.
The hotel was very smart, with large comfortable rooms and luxurious furnishings. Food at our party was very tasty and well presented, and the breakfast offering the next morning was bountiful (not that we were hungry!) – featuring a buffet of cereals, fruit, pastries, cold cuts and more plus full English breakfast cooked to order. Eaten in the conservatory we had clear views down the river watching the canoeists paddling about (more energetic than us on a Sunday morning!). A lovely large outdoor seating area is sure to be very busy during the warm summer months, so we'd recommend booking ahead if you want to eat there.
Wandering into Marlow, this is a smart town with some affluent residents and higher end shops. Whilst there's no real dress code anywhere in the UK, and jeans/trainers/sportswear would be perfectly acceptable during the day, you felt that if dining out in the town you would want to make an effort and go for at least 'smart casual'.
There is access to the Thames Path, which in fact runs 180 miles along the entire length of the river from London to its source in Gloucestershire. It can be walked in easy sections on an ad hoc basis (Marlow features in the 11.5 mile stretch from Bourne End to Henley-on-Thames) or if you're feeling adventurous tackle the whole thing over a number of days with your luggage transported for you! Some of the paths will be muddy underfoot, particularly in winter/wetter months so do take appropriate footwear.
We enjoyed a pleasant stroll down the High Street and along the river, before heading back to our hotel over the impressive suspension bridge. This bridge dates back to the early 19th century and is a smaller scale version of the bridge spanning the river Danube in Budapest (both were designed by William Clark). It is now a Grade 1 listed building used only by foot and local road traffic.
——–
Posted by Emma – WhatToWearOnHoliday.com