Warwickshire is a popular destination for visitors to the UK, being as it is of course 'Shakespeare Country'. However there's more to see and do that just the regular tourist trails of Stratford-upon-Avon.
Located centrally within the 'Midlands' of England, it's within a couple of hours drive from most parts of the country. This was the main factor in choosing it for our family birthday celebration, with easy access for all parties.
We stayed at Ansty Hall, a country house hotel which had smart rooms and furnishings and excellent food. We booked to dine in for evening meals, to avoid heading out in any inclement weather. Being early January it was very quiet, and it almost felt like our own private venue. Elio the restaurant manager was charming and attentive, and made really helpful suggestions over the food and wine. Beef shin on the first night was meltingly tender, whilst the recommended 'fish, chips and mushy peas' was anything but chip shop fare – featuring pieces of cod, hake and salmon in a light crispy batter. The buffet breakfast was tasty and extensive – with a choice of cereals, fruits, breads and pastries… and that's before the full English cooked to order. It definitely set us up for a day of walking!
We were expecting changeable weather at this time of year – it could be anything from sunny, frosty, snowy or just downright wet and miserable. Unfortunately we had the latter, but we headed off anyway to Coombe Country Park – well equipped with waterproofs, walking boots and large umbrellas. After a brief refuge reading the papers in the cafe, in true British spirit we insisted "it's brightening up over there" (it wasn't) and "it will stop in a minute" (it didn't). But off we went.
The park is a gorgeous setting with extensive grounds designed by Capability Brown. What was originally a 12th-century Cistercian abbey is now a hotel (Coombe Abbey Hotel) which looked very posh and was hosting a wedding when we passed by. Dinner or afternoon tea is also available.
In warmer months the park would be lovely for a picnic and you could easily spend the whole day there. Some of the paths were hard and dry, even in these conditions, but we also found plenty of mud and a few flooded streams where the boots were most definitely required. Inspection afterwards revealed mud splatters to our midriffs, so hubby and I were glad we'd packed spare trousers for walking in – other members of the family weren't so lucky and had to make do with muddy clothes the next day.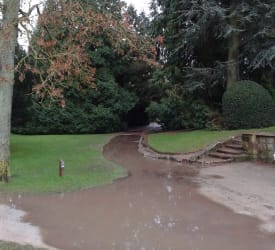 Despite the weather, and it did clear up eventually, we enjoyed our walks through wooded areas that featured some stunningly tall trees. A bird hide by the lake gave some respite as the clouds cleared, and we quicky spotted numerous species feeding in the trees and on the lake.
Returning to the hotel for a warm shower and cosy drinks by the fireplace, we enjoyed another generous evening meal. There was no dress code as such in the hotel, but as the decor was quite smart it was nice to make an effort. Our men wore trousers rather than jeans, with a shirt (no jackets, although these wouldn't have felt out of place). Ladies wore simple dresses or smart trousers.
Hopes to visit chocolate-lovers Cadbury's World the next day were dashed by their winter shutdown, so we opted for Warwick Castle instead. This is rather expensive, especially if there's quite a few of you, although it's probably in line with other family attractions and you can easily spend the whole day there. We were a bit stunned to be charged £6 for parking in addition to entry to the castle – and with forewarning we could have taken fewer cars or parked in Warwick and walked in (probably not an option in busy summer months). The castle entry would also have been cheaper if we'd booked online in advance, so it is worth planning ahead. There seemed to be opportunities to part you from your money at regular intervals, so take plenty of cash!
Your castle ticket gives you admission to the state rooms and exhibitions, some of the towers with stunning views, extensive grounds and the regular demos such as falconry and sword-fighting. For an additional fee you can also opt to see the Dungeon and Merlin's Tower – but we decided against these. There was still enough to do – although exploring the grounds was curtailed by the dismal weather and floods which had cut off many of the paths. In warmer months it would be lovely to sit – although it's likely to be very busy too. It was a good day out in the end, with the castle exhibits being undercover and they were really interesting – particularly if you have any penchant for the English Civil War or later Victorian/Edwardian periods.
After a final warm-up cuppa in the cafe (more expense!) we parted company and headed home. Despite the weather we'd gone prepared to make the best of it, and had a really enjoyable time away.
——–
Posted by Emma – WhatToWearOnHoliday.com