The Shard in London – right now it's the tallest building in Western Europe at 310 metres (1,016 feet) high. Inside are a range of offices, residences, restaurants and a hotel – plus of course the public viewing platform on floors 68-72 (244 metres up) which offers 360 degree views stretching 40 miles across London and beyond. It's almost twice the height of any other viewing platform in London – so probably not one for vertigo sufferers!
We visited on a fantastically clear day in early November, with crisp sunshine and blue sky making the views truly amazing. The Shard dwarfs other well known landmarks such as the London Eye or Tower Bridge.
To get to the top viewing platform, you'll need to pre-book a ticket and timed slot with View From The Shard. If you do this online in advance you will save £5 per ticket compared to the in-person price on the day, so it's well worth doing – plus it will mean you get to visit at the time you want, rather than the times that are left.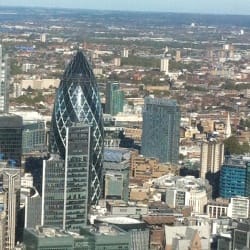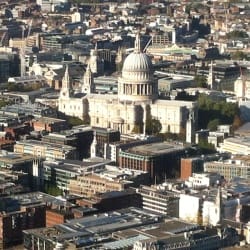 If you don't fancy whizzing right to the top (or paying the entry fee), great views can still be had from the bars and restaurants (Aqua Shard, Oblix and the Chinese Hutong) on floors 31 – 33. Bookings for these are made separately to The View, as they are run by different companies and there is separate access to these floors. We do recommend you make a reservation and ask for a table by the window, but you can head up any time for a drink. Also, whatever you do, make sure you visit the toilets – where you'll find arguably the best skyline view of all.
What to wear? Does it matter? Not for The View, but if you do plan to visit Aqua Shard or Hutong there is a smart casual dress code with no sportswear, shorts or flip flops. And do check what you are carrying, as large bags and rucksacks cannot be taken into The View, and there is no cloakroom. Also you won't be allowed in with open containers of food or drink.
The whole experience is well organised and the staff are helpful – some are even amusing and charming too! Ticket slots last around an hour, meaning that you have plenty of space and time to take in all the views and lots of photo opportunities.
For more great views of London try the London Eye. It's not so high, but it is cheaper and you can still see all the major sights including Buckingham Palace, St Paul's, the Houses of Parliament – and of course The Shard!
——–
Posted by Helen – WhatToWearOnHoliday.com