Here is your step by step guide for creating an ultra-versatile wardrobe.  We will show you how you can plan and create 100 different outfits, using only 29 pieces.  There are so many benefits to planning a wardrobe that is versatile and coordinated.
Benefits of planning a versatile wardrobe
a) It allows you to focus on quality over quantity.
By planning a versatile wardrobe you will be able to create more styles with just a few high-quality pieces, rather than buying multiple cheaper items that don't coordinate and fall apart after a few wears.
b) It reduces environmental impact. 
By planning a well-coordinated wardrobe, you can make more conscious purchasing decisions. This will ensure that you get maximum wear out of your clothing and avoid buying items that you do not wear (that later end up in landfill).
c) It takes the stress out of getting ready.
Because all of the pieces work so well together, it will be so much easier to find clothing that coordinates well. This will takes the stress out of putting together outfit options.
d) It makes it super easy to pack for vacation. 
It is so much easier to pack light if you have a pre-planned capsule wardrobe that you know is capable of producing multiple versatile styles.
Follow these easy steps to create your own versatile wardrobe
STEP 1: Choose a neutral base color
Your base neutral is the anchor of your wardrobe. It will drive your choice of neutrals, outerwear and footwear. Navy or black make perfect neutral bases for any wardrobe. You can then choose high-quality core basics that will be the foundation of your wardrobe.
STEP 2: Chose 2 complementary neutral colors
Once you have chosen your base color, choose two complementary neutral colors that will make up the remainder of your core wardrobe pieces. Choosing lighter shades will create a lovely contrast with black or navy, while ensuring all pieces can be interchangeably worn together. For example, camel, beige, silver or khaki create a brilliant complement to a navy base color.
STEP 3: choose 2 accent colors 
Unlike core wardrobe pieces, accent pieces change with the season. You can choose bold and playful colors and prints. This is your chance to choose trend colors, colors that suit your skin tone and modern prints that appeal to you. Your core pieces stay the same, but you can update your accent pieces when you want to refresh your style. This will ensure your wardrobe stays fresh and modern, without having to constantly update all of your pieces.
Your wardrobe color palette
Once you have thought about your base color, complementary neutrals and accent colors you are ready to go shopping. By having a clear color palette in mind, you will ensure all of the clothing items coordinate well with each other and you will build a much more versatile wardrobe. A well planned out wardrobe requires very few high-quality pieces that can be mixed and matched to create multiple outfit options.
STEP 4: choose your bottom layers
When choosing bottom layers, stick to your chosen base color and complementary neutrals.  This will ensure that your bottom layers are ultra-versatile and match with a large number of tees, shirts and sweaters.
Also, pick pants that can be easily dressed up or down. For example, we love these Oxford Cross Dye Pants because they look great with a polo for casual wear, but can also be dressed up with a sports blazer and shirt for a smart-casual look.
If planning a wardrobe for a vacation, you can't go past classic linen pieces. Opt for high-quality, 100% linen that will wear brilliantly, last you multiple seasons and provide optimum breathability.  Avoid linen pieces made with synthetic blends, as they are less breathable and can feel scratchy on the skin. If you are after great quality linen, try these Linen Beach Pants and Truman Linen Shorts.
STEP 5: Choose your outer layers
Choose jackets and outerwear pieces in either your base color or complementary neutrals. Make sure the jackets you choose contrast with the majority of your bottom layers.
Choosing a less structured blazer will give you the flexibility of dressing it up with chinos and a shirt for smart casual wear or to wear it casually with shorts or linen pants. We recommend this Gulf Street Blazer.
STEP 6: Add classic white pieces
No wardrobe is complete without classic white pieces. White is one of the most versatile neutrals and can brighten up any wardrobe.
Choose a mixture of Classic Oxford Shirts, practical polos and timeless high-quality linen pieces. For a premium linen shirt with a reasonable price tag, try the Ernest Linen Shirt.
STEP 7: Choose your layering pieces
When choosing your layering pieces, you can begin to incorporate your two chosen accent colors.
Play around with different prints, stripes and fresh season accents.
Choose pieces that you can layer easily with each other.
Accent Color

Accent colors are a perfect way of injecting a fresh look to your core basics. They add vibrancy to your chosen neutral tones. The beauty of accent colors is that they can reinvent your core pieces without having to replace your entire wardrobe. This 5 o'clock Polo in dusk red ads a fun pop of color, perfect for the weekend or your next vacation.  While this Costal Quater Zip in Sea Glass is perfect for a relaxing day out with friends and family.
Prints
Prints are an excellent way to add style and interest to your core wardrobe. Experiment with seasonal prints and colors to express your personality and suit the occasion.  Notice how the print on this Short Sleeve Ernest Linen Shirt incorporates one of our chosen accent colors (sea glass) with our anchor color (navy).  It is perfectly offset by light neutral Oxford Chinos for a fun and playful look.
Stripes

Classic stripes are another great way of adding flavor to your core basics.  Add stripes in your chosen accent colors, like this Ernest Linen Shirt in Sea Glass. Or try choosing pieces in your neutral base color  (navy) with a classic white stripe, for optimum versatility.  Choose pieces that provide a modern twist to classic stripes, like this Castaway Hoodie that offers a modern contrasting drawcord design with feature button detailing.
STEP 8: Choose your footwear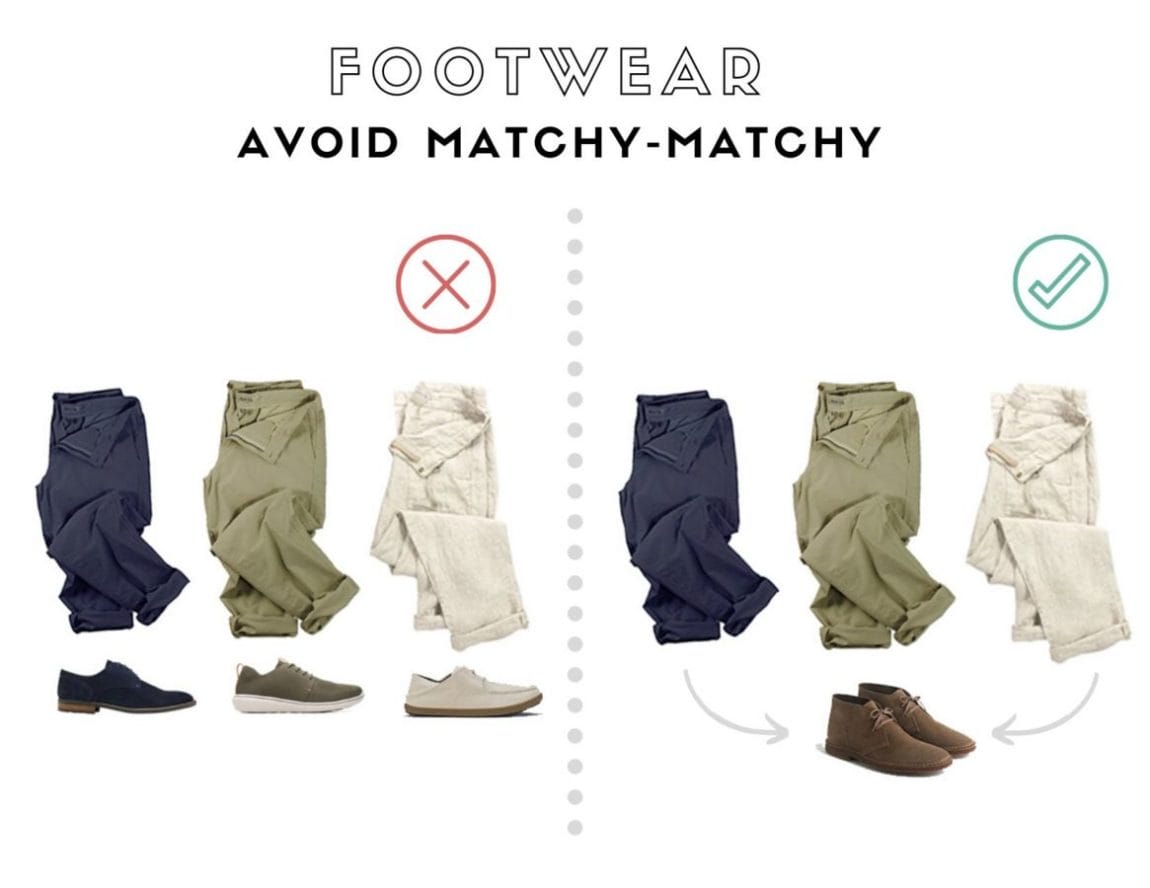 When choosing footwear make sure the color is not too matchy-matchy with your clothing pieces. There should be an evident contrast between your core basics and your footwear.
For a navy base, avoid black footwear as this can clash too much. Stick to taupe, chocolate, white or silver.
Make sure you have footwear to suit multiple occasions. You will need at least one pair of comfortable sneakers, one summer pair and a dressier option.
Your complete versatile wardrobe
Here is the completed coordinating wardrobe. Notice the balance between core pieces and fun prints, stripes and accent colors. With simple planning, we were able to choose 29 quality pieces that can be combined to form 100 versatile looks. Make sure you check out the video below to see all 100 outfit combinations.

Creating outfits
Check out this video that runs through all of the 100 outfit combinations you can make with your 29 piece wardrobe.