Whether you are a wine connoisseur, keen nature lover or wild adrenaline junkie, New Zealand has a treasure trove of experiences for you to sample.  However, mass tour groups can take the joy out of even the most breathtaking destinations. To truly get the most of what New Zealand has to offer, we recommend planning a more bespoke travel experience. We will take you through our top tips for planning a truly luxurious New Zealand adventure, ensuring you get a more intimate feel for this magnificent country.
Booking your flights
The first step to planning a bespoke travel journey is booking your flights. If you have flexibility in your schedule, consider booking your trip during off-peak travel periods. Look up local school holiday and public holiday schedules, and book accordingly.  Booking during off-peak periods can make luxury experiences more cost-effective. It will also ensure your trip is not overrun by swarms of tourists and screaming children.
Top luxury experiences in New Zealand
To help get your planning into gear, first get a taste for the range of luxury experiences New Zealand has to offer. Try to choose experiences that appeal to you on a personal level.  This does not mean you should always stick within your comfort zone. Challenge yourself to step out of your routine and try novel activities. I find moments that diverge from my normal life tend to be the ones that are truly unforgettable.  The picturesque nature of New Zealand will ensure you have the opportunity to truly immerse yourself in remarkable natural beauty. So, ensure you make the most of your surroundings.  Here is just a snapshot of the activities you may wish to add to your itinerary:
Wine tasting in Marlborough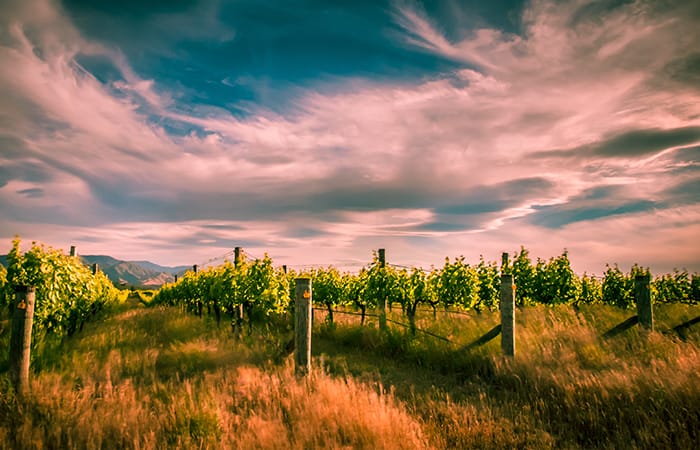 No luxury New Zealand trip is complete without a spot of wine tasting in the Marlborough region.  Sample the boutique wineries, indulge in local artisan produce and take in the spectacular panoramic views of rolling hills and thriving vineyards.  Be sure to sample the world-class Sauvignon Blanc that the region is renowned for. If you are a true food and wine connoisseur you may wish to enjoy the Top Ten Food and Wine Experiences of New Zealand.
Scenic flights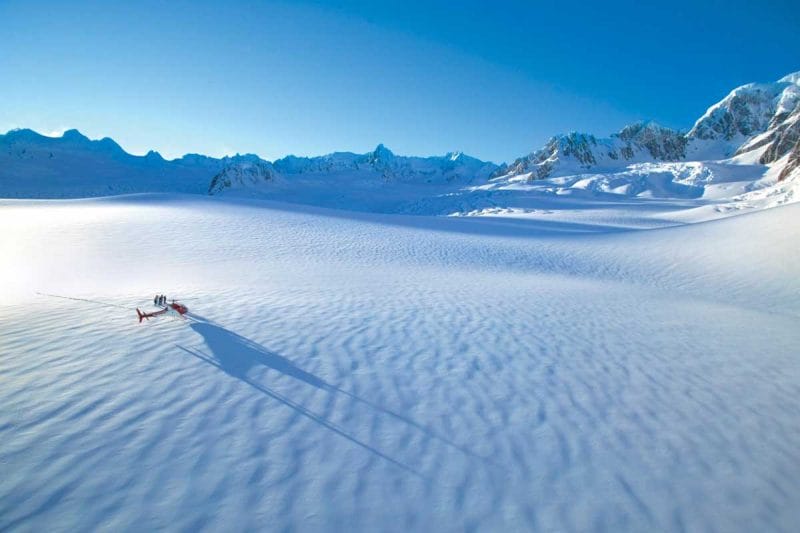 Nothing says luxury like an exclusive helicopter ride over stunning New Zealand landscapes. There are a number of scenic flights you can choose from. One of our favorites is the helicopter flight that soars over some of New Zealand's most renowned glaciers and Mount Cook.   Complete with an exhilarating snow landing, this experience will no doubt produce some frame-worthy photo opportunities and memories that will never fade.
Day Cruises
The remarkable scenery of New Zealand makes it perfect for cruising.  If it is your first time to New Zealand a day cruise to Milford Sound or Doubtful Sound is an absolute must. You will experience postcard-perfect, panoramic views and feel fully immersed in spectacular natural beauty. Choose a smaller boutique cruise for a more intimate experience. Be sure to check if food is provided as part of the cruise. If you would like to add a cruise to your itinerary you might like to check out the top ten day cruises in New Zealand.
Spa experiences
New Zealand has an array of world-class day spas for you to indulge in. A truly unique spa experience can be sampled at Hell's Gate Geothermal Reserve.  Here you will have the opportunity to marvel at the natural geothermal phenomenon of the region and delve into rich Maori cultural practices and traditions.  Take the opportunity to unwind in the therapeutic mud baths and then dip in the sulfur mineral water spas.   The healing properties of the thermal mud and sulfur have been used by local Maori people for over 8 centuries.  Be sure to book a private mud bath for a more intimate experience. Book well ahead of time, to avoid disappointment.
Top Tip: Book a private tour package
If you prefer to take the stress of planning out of the equation, you might consider booking an all-inclusive tour package. If you are looking for a touch of luxury, our number one tip is to stay away from the mass group tour packages. Although they can be tempting as a budget option, you will often be crammed on a stuffy tour bus, spend the majority of your time waiting for lost tour members and be booked into sub-par, budget accommodation. A much better option is to consider one of the many New Zealand private tours on offer.  New Zealand Guided Tours provide a number of luxury tour options that include 5-star accommodation and bespoke experiences. The private tour packages provide you with your own exclusive driver, vehicle and tour guide. Click on the image below to browse all of the luxury tours available:
Booking your accommodation
If you choose to book an all-inclusive tour your accommodation is fully provided, taking the hassle out of comparing a multitude of options. However, if you are planning on booking your own accommodation, we have three top tips to ensure you choose a premium option (at a price point that meets your needs).
1) Thoroughly research accommodation reviews on TripAdvisor.
TripAdvisor should become your best friend when it comes to researching accommodation. You can find hundreds of honest New Zealand accommodation reviews and photos taken by real people (not professional photographers). This will give you a far more accurate impression of a hotel than simply visiting their website.  You will find hundreds of ratings on customer service, amenities and learn about first-hand experiences of other travelers. Many people also take videos inside the hotel suites, so you can get a realistic virtual tour of the accommodation before selecting one that works for you.
2) Think outside the box.
Five-star hotels are fantastic, but sometimes thinking outside the box can lead to truly remarkable accommodation options. If budget is not an issue, consider booking an Airbnb Luxe property. Airbnb Luxe homes in New Zealand are quality checked using over 300 criteria and are impeccably styled and appointed.
3) Use comparison sites to get the best deal.
If you want to get a touch of luxury, but you still prefer a cost-effective option, make sure you use comparison sites when booking your accommodation. Often the exact same room is offered at multiple price points and using a comparison site can save you hundreds of dollars. Avoid simply booking directly with the provider without shopping around, as you can often find the same room advertised for a more competitive price.
What to wear on a luxury New Zealand getaway
When planning what to wear on your epic New Zealand journey ensure you plan for the range of activities you have chosen and the time of year you are planning to visit.
Planning your packing list
There are a number of factors to consider when putting together your packing list for New Zealand:
Dressing for the season
Use an accurate weather trend forecast to predict likely temperatures during your time of travel. Also, double-check the forecast a few days before you depart, to make sure there are no unusual predictions in the upcoming weather.
Correct clothing for the regions of New Zealand you visit
The climate within the North and South of New Zealand vary significantly, with the North being generally cooler. Obviously, alpine regions are also significantly colder, so you will need to carefully check the local climate and dress accordingly. When researching the weather online, be sure you are gaining data from the correct region of New Zealand, not merely the forecast for Wellington.
Activities you have chosen
An itinerary full to the brim with boutique dining experiences and visits to exclusive venues will require a drastically different packing list to one that revolves around hiking, kayaking and outdoor recreation. Consider the range of experiences you have planned and pack in line with the type of vacation you have chosen. If you chose to book an all-inclusive tour, read your day-by-day itinerary and ensure you have outfits planned for each of the experiences listed on your running sheet. Remember, you will often need an active or casual outfit for daytime activities and a dressier option for evenings. This is particularly the case if dining in exclusive restaurants.
Shoes to pack
1) One pair of neutral heels
As you are planning a luxury travel experience, you will most likely be dining out and visiting upscale establishments. So, ensure you bring a number of dressy outfits. A big tip is to bring a single pair of neutral colored heels that will match all of your smart ensembles. This will save a lot of room in your suitcase.
One pair of heels, multiple outfits
2) One pair of good quality, comfortable walking shoes
Regardless of what you have planned for your trip, it is always a good idea to bring along a good pair of walking shoes. You are likely to be exploring and walking around a fair bit, so a pair of walking shoes will keep you comfortable all day.  Be sure to wear your shoes in before you bring them on your trip, to avoid blisters. Check out tips for styling your favorite casual shoes for multiple occasions.
3) Shoes to meet your chosen experiences
You really need to think about the range of activities you have chosen and pack appropriate footwear. If you plan to take part in specific activities, more specialized footwear will be required. For example, if you are taking on any hiking activities you will need a sturdy pair of hiking boots with good tread and ankle support.  Also consider if you are visiting alpine regions, as they may have snowfall and snow boots would be highly recommended. You can also hire snow boots from local ski equipment shops if you feel you won't have much use for them back home.
You will also need to consider the season of travel. For example, in winter waterproof insolated boots may be preferable to regular walking shoes and dressy boots will be more appropriate to open-toe heels for the evenings. For more information on what to bring check out: What To Wear In New Zealand.
A quick wrap-up:
And there you have it. Your top tips for planning a luxury New Zealand vacation:
Book flights during off-peak travel periods, for a more intimate and enjoyable experience.
Choose unique and immersive experiences that appeal to you on a personal level.
Consider booking an all-inclusive private luxury tour package, to take the stress out of planning itinerary, transport and accommodation.
Use comparison sites and TripAdvisor when researching your accommodation.
Dress according to the experiences you have chosen, be familiar with the climate at the time of travel and pack light.
Are you currently planning a luxury escape? Have you recently come back from a trip to New Zealand? We would love to hear all about your experiences.  Comment your thoughts below.
Happy Travels
X Mia