1) The Muraka Underwater Villa, Maldives
This stunning 2 storey villa is submerged approximately 16 feet below the sea level. It gives occupants a sense of being one with the flourishing sea life below.  However, if you wish to stay here you better have quite a healthy bank balance. The villa is only available as part of a four-night holiday package, totalling a staggering $200,000. On the plus side, you get your own personal chef and access to a private boat.
2) Kakslauttanen Arctic Resort, Finland
These amazing glass igloos, set among the snowy forests of Finland, provide a unique vantage point for the Northern Lights. You can stay as snug as a bug while marvelling at the snow-capped surroundings and magnificent natural light show above.
3) Gamirasu Cave Hotel, Turkey
The hotel was once a monastery in the Byzantine Era and has been lovingly restored by a local man that grew up in the village. There is a strong sense of history seeped within the cave walls.  You will feel like you have a connection to the inhabitants of more than 5 thousand years ago.
4) Ice Hotel, Sweden
The Ice Hotel provides a truly unique experience, giving you the opportunity to sleep in a suite made entirely of handcrafted ice sculptures. The sculptures are carved by artists from around the world and each room is completely one of a kind. The room temperature is between -5 and -8 degrees Celsius.  Luckily, you are provided with thick reindeer hides to sleep on and a good quality thermal sleeping bag.  In the mornings you can warm up with a hot sauna and warm lingonberry juice.
5) The Bird's Nest, Sweden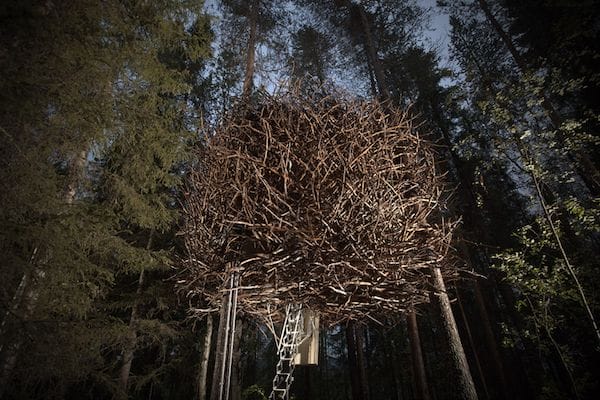 This quirky bird's nest, suspended in the treetops, was designed to have you feel as one with your surroundings. The giant nest structure blends in with the overarching treetops.
The interior is quite spacious. It is designed to accommodate a family with 2 children and includes a separate living area, bathroom and bedrooms. It costs approximately $500 per night for 2 people.