Bologna was the second stop of our three cities/six night trip to Italy in March, which also took in Verona and Florence.
After two nights in the beautiful city of Verona we were off to Bologna – less than an hour away by train. Having booked fixed-time tickets before we left home we got the cheapest rate, and so treated ourselves to 1st Class. 2nd Class is perfectly nice and similar to at home in the UK. However in 1st Class they offer free newspapers, drinks and snacks. The four Italian women sat nearest to us enjoyed the Prosecco at 9am very much!
We arrived in Bologna around 11am and left our bags at the station whilst we went out to explore the city. The left luggage at the station offers a great service – for 6 Euros you can leave your bag for 5 hours, or for 15 Euros they will even deliver it to your hotel or apartment.
It was then about a 20 minute walk to Piazza Maggiore, the heart of the city. This is a bigger, bustling and much more touristy city than Verona. We were immediately struck by the dramatic medieval architecture. And there are some 22km of covered walkways which means you can pretty much walk anywhere avoiding the worst of the weather.
After a stop at the tourist office in Piazza Maggiore for our Bologna Card we set off to explore. The Bologna Card was 22 Euros for two days and comes with added extras. We opted for the free walking tour the following morning – and I must say that this was excellent, and far more than we expected. Unlike most walking tours, we could go into all the attractions because we had all bought the Bologna Card. It was a great tour lasting around 3.5 hours and we got to see all the 'must see' sights of Bologna.
The medieval heart of Bologna is compact enough to walk around. We explored the antique market, lusting at the chandeliers. But the towers in Bologna have no lifts, and with around 450 steps we took the option to admire from the street!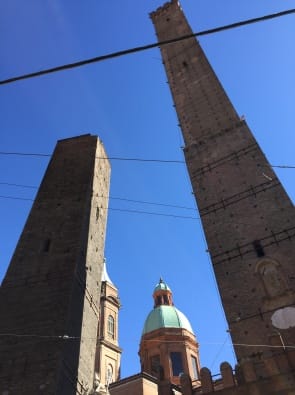 We stayed in a lovely Airbnb apartment in a quiet residential street about 20 minutes from the station and Piazza Maggiore. For us it was the perfect location.
My Favourites In Bologna
Hidden canals: until we arrived here we had no idea that Bologna once had more canals than Venice – about 60km of them – but that over the years they have been covered over; visit Via Piella to get a taste of what the city would have looked like in medieval times.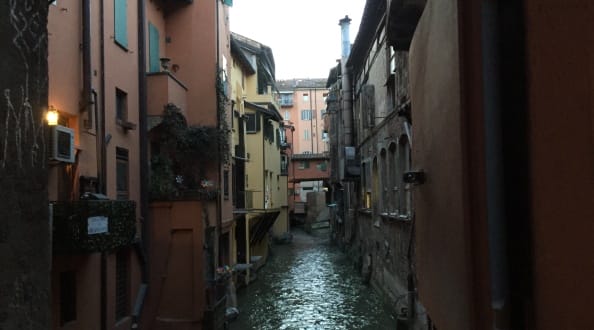 The whispering walls of Palazzo del Podesta, just behind the tourist office on Piazza Maggiore, where if you stand facing the wall in one corner of the intersection at the centre and someone else faces the wall of the opposite corner, say something and you can hear it through the walls. Honestly, you need to try this to believe it!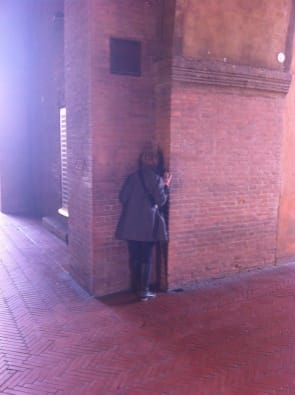 The food market of Quadrilatero, the medieval area next to Piazza Maggiore with shops that have been in operation since Roman times; how amazing is that?!
We prolonged the experience by having a delicious lunch of local cheeses and meats, with wine of course, at one of the delis in the market. Top tip: Get there early or be prepared to queue.
We bought: Parmigiana Regianno 60, which our walking tour guide told us was the best quality; rich syrupy balsamic vinegar; and spiced salami.
Neptune's fountain was being renovated when we were there and was covered in scaffolding and plastic sheets. However, we got a guided tour around the scaffolding to the top of Neptune's head. It was a unique experience, and with just a small party allowed at any one time we got to see and hear a lot about the history. It would have been a shame not to have seen this iconic part of Bologna.
Tagliatelle Bolognese; well when in Bologna you can't not try this can you?
Cocktails at Le Stanza; a former church now a beautiful bar/café.
* Prices correct as at March 2017
——–
Written by Helen