Pre-Trip – Packing and Planning
For our Italian three cities (Verona, Bologna, Florence) six night trip in March we were travelling out with only carry-on luggage. Flying with Easyjet means, ladies, your handbag has to go inside your cabin bag unless you have Speedy Boarding or Easyjet Plus.
However as our flight home was with British Airways we had the flexibility of checking a bag on the way home if we wanted to buy any delicious Amerone wine (speciality of the region around Verona and extremely expensive at home).
To travel in I wore:
Black jeggings
Polo neck
Coral cashmere jumper
Long black boots
Warm waterproof coat
And I packed:
Black jeans
2 polos
2 jumpers
1 shirt
Arche boots
Underwear, PJ's, toiletries
Honestly this was enough.
Steve wore:
Black jeans
Polo shirt
Jumper
Jacket
Shoes
And packed:
Trousers
1 jumper
5 shirts
Underwear and toiletries
My Top Tips
What a beautiful city Verona is. The Arena, very like the Colosseum in Rome but somehow lovelier, sits at the heart of the old city and Piazza Bra. Piazza Bra is where you can people watch over a coffee or glass of wine, be mesmerised by the fountains or just relax – it is a great meeting place. Oh yes, and it's the home of Romeo and Juliet.
Things Worth Knowing:
1. The "Areoport" bus stops right outside Verona's small airport. For 6 Euros you get a speedy ride (15 minutes) to the centre of Verona where the bus stops outside the railway station. Don't bother to buy your bus tickets at the machine in the airport; whilst you are trying to the bus may well leave, and it's quicker to buy them on the bus.
2. At train stations across Italy there is a good left luggage service, which was great for us as we arrived hours before we could check into our Airbnb apartment. Well sign-posted, and it's not lockers where you need coins but a manned service where you can pay by card if you want (6 Euros for 5 hours).
3. The toilets on the corner of Piazza Bra are really clean and modern but with a uniquely quirky style to them. Cost 70 cents.
4. Our 48 hour Verona Card (cost 22 Euros) saved us a lot of money and time. You can buy this at any of the sites as well as at Tourist Information points.
5. Piazza Del Erbe: act like a local; dress up warmly even if the sun is shining (to the locals this is still chilly spring weather even if it feels hot compared to where you have come from), sunglasses on (obligatory when in Italy), and an Aperol Spritz in your hand. Even the shop windows have style.
6. At Torre dei Lamberti near Piazza Del Erbe pay the one Euro to use the lift rather than walk the 400+ steps, you won't regret it! The views were stunning.
7. Tipping is optional and not expected; how refreshing!
8. Everywhere in Verona the beauty of the buildings, the bridges, the river are breathtaking. We walked over Ponte Pietra, the oldest stone Roman bridge in Verona and just for pedestrians, to get to the Guisti Gardens and Teatro Romano – both worth the walk.
9. A visit to the Arena made me wish we were there for the opera in the summer; to experience the Arena full of energy must be as close an experience as the Romans would have enjoyed as possible. Ah, maybe someday.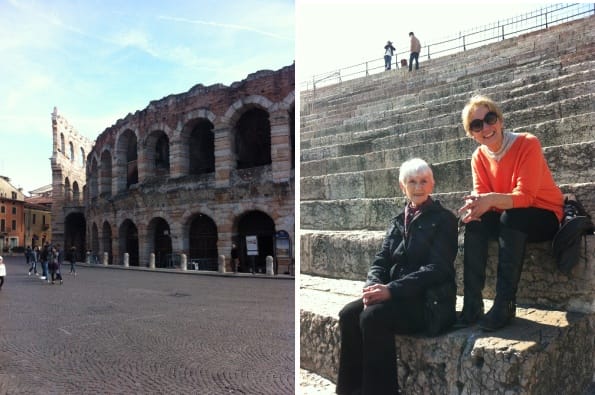 10. Our favourite meal, and amazing value with wine to accompany each course, was at Café Monte Baldo. On a Friday night it was crammed full of locals, so ensure you book or you will be disappointed.
* Prices correct as at March 2017
——–
Posted by Helen