Top tip 1: Always take an umbrella or be prepared to buy one, even if you have a hood on your jacket; after a couple of hours of constant rain my hat gave up.
Top tip 2: There is plenty to see and it involves a lot of walking, so pack comfortable flats for the daytime.
Top tip 3: Pop in one of the many Tourist Info shops and grab a map.
Flying with Ryanair from the UK to Dublin for a long weekend, we opted to take our smaller carry-on Karabar Aragon bags which are great because they have both wheels and backpack straps. As we'd booked 'priority boarding' this time we didn't need to worry about our luggage being put in the hold (which could happen if there is too much cabin baggage). But otherwise, by using the backpack straps we have so far avoided this anyway and been able to keep our luggage with us.
Our pre-trip planning involved booking parking at Birmingham airport, and we managed to find the best deal on Holiday Extras which saved us a few pounds.
Waiting at airport security we had a lesson in why our checklists are so useful. The three people in front of us held up the queue whilst they all had liquids confiscated for being more than 100ml (one guy tried to argue that there was only a little in the 250ml tube – it doesn't matter, 100ml pots are the maximum!); a lady had three plastic bags (limit is one) again with oversized products; and another guy had a plastic bag the size of a freezer bag (it should be 20cm x 20cm max). Embarrassing for them, frustrating for the security guy, and it ended with a lecture to everyone.
Sticking to our Weekend Packing List I wore blue jeans, comfy boots, a long-sleeved t-shirt, cardigan, scarf, a jacket, and carried a shoulder bag. I packed:
Black jeans
2 long-sleeved t-shirts
Longer cardigan
1 evening top
1 sleeveless tunic
PJs, underwear etc
Personally I don't wear dresses or skirts and for a weekend away find one pair of extra jeans enough if I can mix up the tops.
Ireland is famous for its damp and changeable weather, and having checked the upcoming forecast (Weather Online is a good source) it did indeed predict some rain. Rather than packing an umbrella I opted for a hooded jacket (and ear muffs and gloves to keep warm). However, in hindsight I should have packed an umbrella too because after 2 hours of a 3 hour walking tour in constant rain my hood gave in and soaked through!
Steve wore blue chinos, Lugz shoes, a shirt, thick jumper and waterproof jacket. He packed 3 more shirts, a lightweight jumper and underwear; really that was all. Personally I think he should have packed an extra pair of trousers, but I leave him to it!
On the flight we were surrounded by hen and stag groups – all calm and collected, but I wondered what they would be like when they hit Temple Bar.
Unfortunately, our short 50 minute hop across the Irish Sea turned into a mammoth 4 hour detour. After a long delay waiting to land at Dublin, our Ryanair plane didn't have enough fuel to continue waiting in the holding pattern and we had to divert to Shannon airport 200km away for refuelling! Shocking, and a big dent in our holiday time, BUT the upside was we got to see the West coast of Ireland and it looked beautiful.
When we finally reached Dublin we received a warm welcome at passport control (contrast that with some places you go) and went to get our hire car for the 30 minute drive into Dublin. Now because we arrived late it was rush hour, and 30 minutes turned into an hour plus. By the time we arrived at the apartment 4 hours late you can imagine we were really looking forward to a night out in Temple Bar (Dublin's cultural heart).
After a quick change of clothes we were out and planning to walk the 20 minutes into the centre, but as it was raining we were tempted into a taxi for an 8 Euro trip. Great value for money as it turned out, as we had a warm and welcoming taxi driver who doubled up as impromptu tour guide before dropping us right at our destination.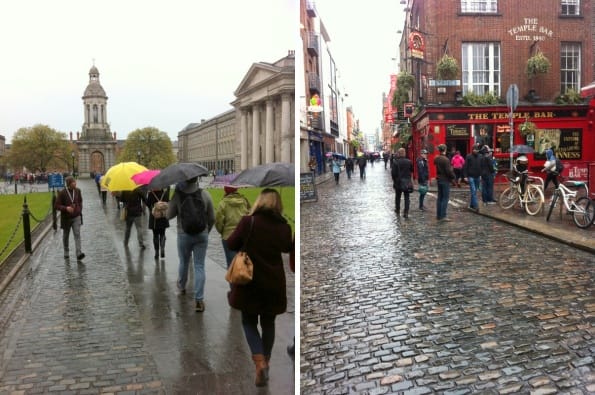 Trinity College, and the Temple Bar district
I know Temple Bar is regarded as a tourist trap, and yes that's true but nevertheless you will get to hear some great music. It's a friendly, safe place and there's such a variety that there is something for everyone. The food can be great too. We opted to spend our first night at The Old Storehouse in Crown Alley where we listened to some great music, joined in singing and clapping, ate some fresh homemade food and had a great night.
Day two saw us heading along the north bank of the River Liffey for breakfast at a great little place, before joining the Dublin Free Walking Tour which starts at 11am under The Spire on O'Connell Street. By the time the tour started it was pouring with rain (a reminder we were in Ireland) but that didn't dampen the spirits of our guide Richie, who regaled us with stories and made us laugh with him at Irish humour and some crazy "facts". Who would have thought three hours walking in the rain with only one quick coffee stop would be so much fun, but it was. It's a really great way to meet a local, see the sights and get your bearings.
Dublin Free Walking Tour – in the rain
During the tour we had spotted a place called The Bank on College Green and went back there to dry out and have lunch. It was a stunning old bank building with the same grandeur; high painted ceilings, chandeliers, decorated glass and someone playing the piano. I ate the most delicious homemade seafood chowder with stout bread, and added to the friendly service it made for a perfect place to while away an hour with our new-found American friend Nadia. I even tried my very first ever Guinness and I loved it! This really shocked me as I don't like beer as a rule, but this was different – not at all bitter but creamy and quite sweet. Lovely.
Following a tip-off we had booked to go to the Hooley show at Johnnie Fox's pub in the hills above Dublin – the highest pub in Ireland and one of the oldest too. We booked places on the "shuttle bus" from the centre of Dublin to take us there. As it was a busy Saturday night it was a full-sized coach and joining us were a group of 24 hen partygoers from London, not a quiet experience as you can imagine but funny.
Hooley show, and the obligatory Guinness
The show is certainly an experience, the music and dancing were great and the way the staff managed to serve over 150 people quickly was remarkable. If you are looking for a party venue for a group then it's good clean fun with chances to join in. For a couple it's maybe not such a great experience, and one worth just dipping a toe in rather than staying for the whole show. However check it out all the same, many famous people have.
Sunday was the day we decided to explore Kilkenny, Glendalough and the Wicklow mountains. The drive to Kilkenny was pretty enough and reminded me a bit of Cumbria in the UK. Kilkenny itself was a nightmare to park in, even on a Sunday.  At Hollywood (yes it even has the sign!) we enjoyed a homemade late lunch at the Hollywood Inn before driving to Glendalough. The scenery is breathtakingly stunning and reminiscent of the Scottish Highlands. If we hadn't hired a car the trip could also be done by coach for around 28 Euros, which seems very good value.
Back in Dublin for our last evening we decided to go to the Brazen Head as it is the oldest pub in Ireland, dating back to 1198. For a Sunday it was packed and the little rooms led off a covered courtyard entrance, a welcome place to sit as inside was very warm. As we had come to expect in Dublin the service was brisk, efficient and friendly.
Indeed that is one thing we noticed everywhere – everyone seems to have pride in their work, approaching it with energy and drive and a genuine delight in their customers. They really seem to innately understand what customer service is all about.
After a glass each of Guinness we walked along the south side of the Liffey towards Temple Bar and entered The Norseman, another old pub (1696) with live music which was recommended by our taxi driver on our first night. We weren't disappointed.
The River Liffey
As we had eaten lunch really late we weren't too hungry until around 9.30pm when we wanted something light. Klaw, a seafood bar was close by and had some great reviews. It's small, doesn't take reservations and is very popular but honestly it's worth the wait to enjoy fresh seafood prepared simply and full of flavour.
Dublin is a warm-hearted city and the only way to really get inside it is to explore on foot. Expect it to rain at least once, dress accordingly and you won't be disappointed. More than in most places jeans or chinos and casual clothes are the way to feel relaxed and fit in. And finally, even if you are not a beer drinker normally you really must try Guinness!
——–
Posted by Helen – WhatToWearOnHoliday.com