Heading away for 6 nights to the beautiful Loch Lomond region of Scotland, we planned to do lots of walking and exploring by day.
We were staying in a smart hotel (Cameron House) so there were plenty of home comforts and facilities including a swimming pool and golf course. We hoped to sample their choice of restaurants, one of which is Michelin starred and has a 'no jeans or trainers' dress code.
Scotland is notorious for unpredictable weather, and whilst it's a cliche it was very much true the week we were there. After arriving to sunshine, the next two days were wet, misty and miserable which put paid to too much outdoor adventure. Following that though were glorious blue skies and even a touch of sunburn!
We were driving to Scotland so didn't have to worry about luggage allowances, but we more-or-less followed our UK packing list. Aside from our walking boots and coats which we threw in the car, everything else fit inside two suitcases – one cabin-sized and the other slightly bigger, and there was plenty of room left.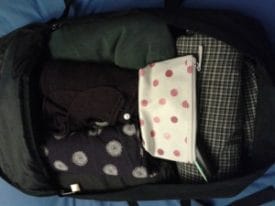 To travel in I wore:
Black jeggings
Camisole
Long-sleeved t-shirt
Smart cardigan
Pretty scarf
Warm coat
Comfy trek shoes
And packed:
1 pair of walking trousers
1 pair of black leggings
1 smart dress
2 long-sleeved tops, 1 a 'thermal active' layer
1 short-sleeved 'active' t-shirt
1 tunic
1 smart evening top
1 fleece
1 pair of walking boots
1 pair of smart heels
1 pair of smart flats
Underwear
Socks, incuding thick ones for walking
PJs
1 swimsuit
1 set of costume jewelry
A pashmina
Sunglasses
Hat and gloves
Waterproof fold-away jacket
A clutch bag
And my handbag
Hubby wore:
Casual jeans with a belt
Long-sleeved rugby shirt
Smart jumper
Warm coat
Comfy trek shoes
And packed:
1 pair of smart jeans
1 pair of walking trousers
1 pair of 'golf' trousers
2 long-sleeved rugby shirts
1 'thermal active' undershirt
1 short-sleeved t-shirt
3 smart long-sleeved shirts
1 lambswool jumper
1 pair of walking boots
1 pair of smart shoes
Underwear
Socks, incuding thick ones for walking
Swim shorts
Sunglasses
Cap, scarf and gloves
Waterproof fold-away jacket
Cabin Max Pack Away Day Sack for day trips
We didn't, in the end, use the pool but hubby did play golf one day.
The waterproofs were required in the first couple of days, and layers were very much the requirement at all times – walking high up into the hills with the sun out was quite strenuous and hot, but at the top with the winds blowing it was very cold so you needed things you could add/remove easily en-route, plus a light day sack to carry them in.
In the space of one hour I started in a t-shirt and fleece, removed the fleece, added it back on, then added my waterproof,  gloves and hat!
For evening wear I switched between the smart dress, tunic/leggings, and jeggings/evening top with the heels or smart flats. Taking two pairs of smart shoes wasn't really necessary, but I don't have many occasions to wear the heels and I wanted the flats as a lighter 'indoor' option to the trek shoes. Unfortunately my heels are suede and didn't cope well with the wet weather one night!
We didn't sample the Michelin but can very much recommend the Cameron Grill – the desserts were particularly fabulous!
Away from the hotel everything was pretty casual, so unless you are dining in a nice restaurant you won't really need dressy clothes.
Loch Lomond and the Trossachs National Park is a really beautiful area, with lots of opportunities for walking for all abilities. The views are stunning, especially if you're lucky and the sun comes out!
——–
Posted by Emma – WhatToWearOnHoliday.com