Today I'm wearing blue jeans, a long sleeved blue t-shirt and the same jacket, boots and scarf. Steve again wears chinos, shirt and jumper with jacket.
We started our day in St Louis with a walk to the City Museum, which more closely resembles Willy Wonka's Chocolate Factory! To be honest the $12pp entrance fee wasn't worth it for us, so would I recommend it to a couple on a one-night stopover? Probably not, but if you have kids with you then absolutely yes!
We then walked to the Gateway Arch where for $10pp you can ride up to the top of the arch in little capsules – but if you are a bit claustrophobic then this isn't for you! The views from the top are spectacular, but if it's really busy the queues will mean you will be waiting a very long time. We saw the old Court House and some stunning buildings, but the city seemed really quiet. Someone told us its population has been declining since the 1950's and there were a lot of empty and derelict buildings, but still it was lovely.
Heading on now to Springfield, and en-route we stopped for a late lunch at the Route 66 famous Tommy's Tator Patch in Rolla, where Steve had the biggest jacket potato I have ever seen filled with chilli and extra jalapeños.
If the first part of our route to St Louis was a flat, treeless landscape, the drive from St Louis to Springfield was all about the trees – mile after mile of beautiful forests as far as the eye could see. So beautiful, some in blossom, different colours and just so vast.
We arrived in Springfield around 4pm to find they had closed the road we were staying on for an Arts Festival. Again thanks to Doris we found an alternative way in.
The Walnut Street Inn is an original from the 1890's when the town of Springfield was less that 70 years old. It was built by a successful settler who travelled west to make his fortune as many people did at that time. In fact, following Route 66 you do get a sense of the sheer scale of the adventure these New World pioneers took on, tinged with the sadness that long before they arrived the land was populated by native Americans and they were literally thrown off their own land.
Springfield I would say is more than a tiny bit obsessed with parking – or rather making sure you don't park where you shouldn't; everywhere seems to require a parking permit or you will get towed away.
After a shower and a change of clothes (black jeans, white t-shirt, yellow cardigan, same boots and coat) we set off to find dinner. For the first time on this trip we didn't need our coats in the early evening; the weather is definitely warming up as we travel west.
It's Friday night and we decided to walk the mile into the downtown bar areas and chose the Springfield Brewing Company as our first port of call. It's a cavernous place as you might imagine a brew house to be, and it was buzzing. There was a choice of seven beers that they brewed, plus wine etc. and food. The staff are really friendly, and one great thing is that everywhere you go you get a glass of iced water and they keep topping it up. It would be great if they did this in the UK too – it really helps keep you hydrated when you drink. Steve had a steak and vegetables and pronounced it delicious and spicy. I had a spicy bean burger, without the bun, homemade and also lovely. However, the sweet potato chips that came with it were covered in sugar – totally revolting! Turns out that's how they serve them in these parts, so beware with a savoury meal – it was not a nice sensation for me.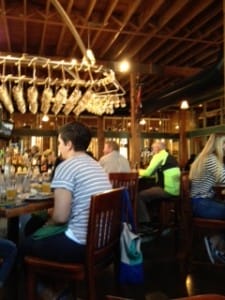 As we went to find another bar and wander back the place was really buzzing. Friday night in Springfield really is party time and people of all ages were out. I had seen that bars stay open til 1am which, as in St Louis places seemed to shut early, it was a surprise until we saw it happening. There was a great buzz, it felt really safe to be out and walking about and people were really friendly. We stopped at a bar called Ophelia's on the way back and we loved it – maybe because it had a far more European feel, a more sophisticated ambience, and they served a wide selection of cheeses by the ounce with crackers so a great place to enjoy a delicious glass of wine and cheese. Or as Steve did, a great glass of bourbon – one recommended by the bar tender and which lived up to his promise. Definitely one to check out if you are ever in Springfield.
By the time we made it back to the B&B the stalls for the Art Week had filled the street so it will be interesting to see what it's like when it opens tomorrow.
——–
Posted by Helen – WhatToWearOnHoliday.com