Arriving to a very smiley Chicago, amazingly we were through passport control in just a few minutes – none of the usual mean interrogation. Then we took the Hertz bus to pick up our hire car.
TOP TIP: The very best thing we had done at home was to sign up for the Hertz Gold Rewards Card. It's a free service which enabled us to collect reward points, but best of all it meant we had already submitted our driving licence and credit card details and pre-booked the car. So when we arrived we had a preferential area to be dropped off in, and if we saw a vehicle we liked more than ours then we could upgrade at no extra cost. I was able to be added as a second driver for free, and we even had SatNav thrown in which saved us lots of money.
The SatNav made it really easy to find our way – once Steve stopped man-guessing the directions and doubting them!
Met our host Amy at the Chicago apartment and she told us where to go to sort out a US mobile phone (our usual phone with its UK service would cost us more here). We bought a really basic phone to text and call on for less than $15.
Then on Amy's recommendation we ate at Uncommon Ground and had an amazing meal – the waiter didn't even ask for a tip, but obviously he got one. We were so tired we were in bed by 8pm local time and slept right through til 6am.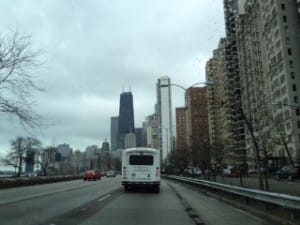 Now getting ready for the great road trip. We had checked the weather forecast right across the trip before we left home, so knew it was similar to the UK and last night it was even colder – but the clothes we travelled in were perfect for the evening and we felt we fitted right in. This morning I've changed into my blue jeans and a t-shirt, with the same Barbour jacket, scarf and boots. Steve wears chinos, shirt, jumper and jacket.
Using airbnb.co.uk to stay with a local meant we found out more than we could have done otherwise in such a short time, and it felt like a home from home.
Next stop – St Louis, Missouri.
——–
Posted by Helen – WhatToWearOnHoliday.com