Top style tips for Malta and Gozo
The same applies in Malta as is the case pretty much throughout the Mediterranean islands – our advice would be to travel light.
Smart casual wear will make you feel instantly at ease.
Jeans are always popular and will serve as a versatile base to your wardrobe, except in the high summer when it is just too hot and humid. Wear them with light layers such as t-shirts or camisoles for the summer, or warmer ones e.g. a long sleeved shirt and jumper in the winter.
All you need for a day by the pool or on the beach is swimwear, flip-flops, sunglasses, a sunhat and a sarong or kaftan to wear at lunch.
Malta is a devoutly religious (Catholic) country. Show respect in cathedrals and churches (of which there are many) by making sure your shoulders and knees are covered (both men and women). You may be refused entry if you are not dressed appropriately.
If visiting the underground temples, catacombs or war rooms in summer, consider it will be noticeably cooler inside away from the sun; take a light wrap or jacket to put round you.
Nightlife is a huge part of the Maltese culture and you will find the clubs, bars and restaurants mainly concentrated in the towns of Paceville and Bugibba where the young dress to impress.
But dining out is mostly casual; there is no requirement to really dress up (unless you want to) even in the more expensive restaurants. Outdoor seating is popular, so take something to put round you to keep off the evening chill.
If you are looking for a highly versatile travel jacket to bring along we highly recommend the SCOTTeVEST range. Their range of jackets have been specifically designed with traveling in mind and include RFID security (to protect your passport information), 23 secure pockets and personal connectivity integration.
Pack for the weather
November, December, January, February, March and April will be cooler and wetter, so be sure to pack a lightweight raincoat and a travel umbrella will come in handy too. It can get chilly at night so pack a light jumper – but during the day it is still warm in the sun.
Strong winds can make it feel cooler too – light layers are the key to coping with variable temperatures.
If you are heading to Malta in Spring, check out: What we packed for Malta in Spring
Malta has very hot, dry summers; in June, July, August and September lightweight natural fabrics will work best in the heat and humidity.
In the summer wear plenty of sunscreen (we love the Riemann P20 range for 10 hour protection), sunglasses and a hat.
We love the Weather+ app – it gives an accurate 6 day forecast for day and night, which when you're planning from home is really helpful. You can keep all the places you've been to too – a nice way to remember your trip 🙂
Shoes to pack for Malta and Gozo
There are only a few sandy beaches, so be sure to pack some dive shoes or similar for the rocky coastines.
There is loads to see and do away from the beaches so you're likely to do a lot of walking. Make sure you take comfy footwear for daytime. We love Hotter shoes, for total comfort along with style.
Save your high heels for the bars and nightclubs.
Or try the Lindsay Phillips Switch Flops range – using interchangeable shoe and flip-flop bases with snap-on decorations, you can change your look from day to evening in an instant whilst still packing light.
Clothing tips for women
For day trips out, Capri style cropped trousers or a sundress are perfect.
Our advice would be to limit your shorts and sarong to the beach, as wearing them elsewhere will label you as a tourist and skimpy tight-fitting clothes may get you unwanted attention.
For the evenings again keep it light and simple – lightweight cropped trousers or a skirt work well with flip flops.
A few well-chosen pieces of costume jewelry will transform any outfit.
And a pashmina is a versatile piece that will dress up any outfit too, as well as keeping you warm in a chilly breeze or covering your shoulders in church.
Clothing tips for men
If you're looking for versatile and stylish beachwear, try the Madda Fella range of shirts, shorts, polos and swimwear.
Regions of Malta & Gozo
St John's Co-Cathedral in Valletta is an iconic site. The entire floor is made up of multi-colored marble tombstones, and you must not wear pointed or narrow heeled shoes as these may cause damage (although you can buy protective slippers).
The back streets of Valletta are steep and not always in great condition, so comfy footwear is a must.
The high stone walls of L-Mdina help keep the city cool and shaded. It's a welcome retreat on a hot day, but you may feel chilly out of the sun. If visiting the catacombs in Ir-Rabat next door, make sure you have flat non-slip footwear as the underground tunnels are cramped and tricky to navigate.
Comino has very few facilities and little shade or shelter. It's hot, dry and dusty, so if you plan to explore take plenty to drink and wear good sun protection. For swimming in the Blue Lagoon be sure to take your swimwear too.
Hiking and birdwatching are popular activities and stunning countryside walks can be found right around Malta, Gozo and Comino. Make sure you have comfy and sturdy walking shoes or trainers as the terrain can be rough and rocky.
Other things to pack
To use electrical gadgets you may need a travel adapter plug (they use the same as the UK) and also a step down voltage converter if your devices are not designed for European voltage (230V)
Also, take a comfy daysack or beach bag to carry your daytime essentials.
The tap water is safe to drink, but most is converted from sea water and does not taste pleasant. Rather than buying bottled water, consider carrying a LifeStraw Filtration Water Bottle – fill up from any source and get clean, safe drinking water without wasting plastic bottles.
Avoid paying unexpected baggage fees – use an accurate luggage scale to ensure you keep within the weight allowance. Don't forget to leave room for souvenirs on the way home! Hand-blown glass from Mdina, ceramics and handmade lace are all popular traditional Maltese goods, and the Ta' Qali craft village or market at Marsaxlokk are good places to shop.
If you plan to hire a car, be warned that driving in Malta is erratic at best and they have the highest road accident rate in Europe. Consider taking out excess waiver insurance in case you have a bump.
Other Malta Posts you might like
Planning for a last-minute trip to Malta, I could see there were countless things for…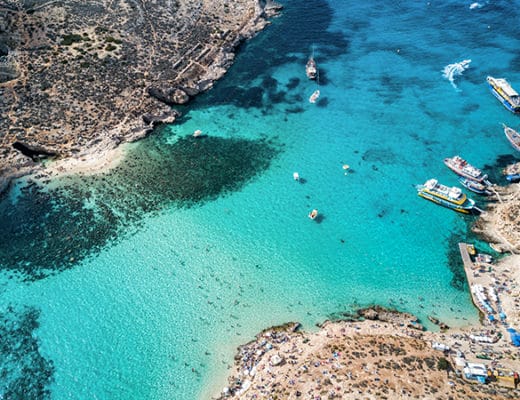 Unlike some trips which you think about and plan for months (if not years),…
Community photos of Malta and Gozo
Here are some photos sent in by our community members. Have you been to Malta? We would love to hear all about your experiences, send your pictures to hello@whattowearonvacation.com or comment below. Please note, comments are moderated for spam, so will not appear immediately.