Helen visited Denmark's capital, Copenhagen, for a weekend in July, a friendly and charming destination with plenty to do.
My highlights
We felt relaxed just being there, how does that work? The local people were delightful,
friendly, helpful and simply charming.
The smorgasbord is amazing; try as much as you can.
My top 5 things to do
1. Paper Island – it may be no more after the end of 2017 when the lease expires, it may be a housing development soon so get there now if you can. Be prepared for it to be busy –
it's very popular… and for very good reason.
2. The free walking tours – they were great. Taking in Christiania shows a complete
contrast to the rest of Copenhagen.
3. Lunch at Torvehallerne market in the centre of the city; it is a foodies' heaven.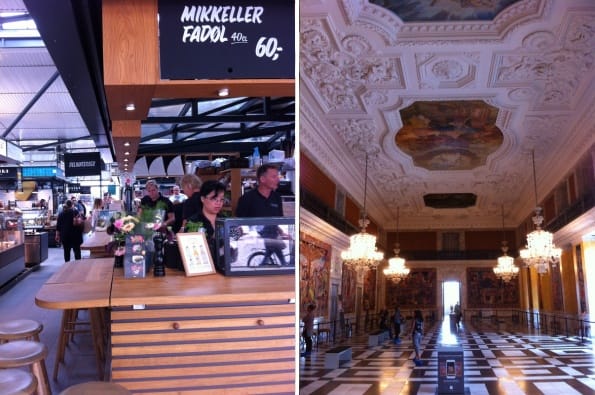 4. Christianborg Palace is stunning, and is now home to the Danish Parliament.
5. Take a boat trip – there are so many options.
My top tip
The Copenhagen Card can save you lots of money if you like visiting castles and
museums, including Tivoli Gardens and the Carlsberg brewery. We found it meant we went
into some venues a number of times because we didn't have to pay again, Tivoli being a good example.
Good to know before you go
Remember Denmark isn't in the Euro, but they do take it along with credit cards everywhere and there are plenty of cash machines.
You really can get all weather seasons in one day – so pack accordingly. Take an umbrella and rainwear – they are expensive to buy there.
The easiest way to see the city is to walk, and the paths in the Old Town especially are
uneven and cobbled – wear comfortable walking shoes.
There are so many great restaurants (food freshly prepared, homemade, organic, delicious) and bars that you don't need to book; just see what takes your fancy.
4G is everywhere.
A word of caution
Bicycles in the city are not for the faint hearted! They are cheap to hire and there are
plenty of dedicated cycle lanes, but pedestrians are the major hazard. The locals manage
this very well but if you are not used to this it could be scary.
Anything else?
Check the likely weather before you go (but prepare for anything – see above). It's easy to think if you're moving around North West Europe that the temperatures are pretty similar. We left the UK at 28c and landed in Copenhagen at 17c.
Yes do Tivoli, it's where Walt Disney got his idea for Disneyland from and the locals love it
too.
We had thought to travel out of the city to Malmo in Sweden or down to the lovely
village of Dragor, but in the end there was so much to see in Copenhagen itself on our 3
day trip that we stayed in the city.
What I wore and packed
To travel in I wore:
Capri pants
¾ sleeve top
Jumper
Shoes
And I packed:
2 pairs of trousers
3 shirts
Jacket
Shoes