Stylist Kathryn Porritt of Bondi Lifestyle tells us why kaftans are such a versatile part of her wardrobe.

Go Resort Glam with Kaftans
That glamorous, relaxed look that brings a healthy tan, sunshine and bright hues together isn't exclusively reserved for your summer vacations. You can get the resort glam look every day with the latest in kaftans.
Super comfortable, easy to wear and ultra flattering, the kaftan is a piece no longer just for the beach. Bring yours out for vacations, weekends and parties – even work – when styled with the right accessories and an ultra-glam attitude.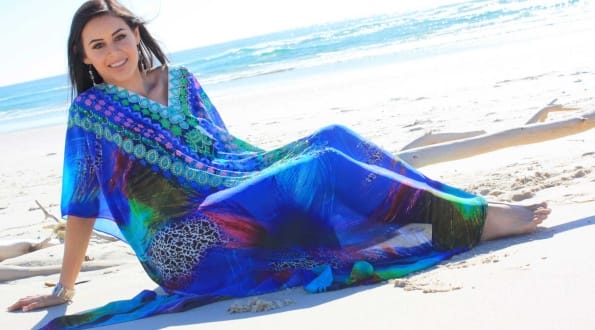 Kaftans as Everyday Wear
No matter your size or shape, your budget or location, there's a kaftan to suit your everyday style. Whether it's for casual weekend wear or for a day at work where you want a touch of resort chic, you'll love the comfort and fit that a Kaftan brings your wardrobe.
For work, a shorter kaftan looks amazing over tailored pants and stilettos and can be worn over a pencil skirt, tucked in and draped with beautifully layered necklaces.
For your weekend style, try a midi kaftan styled with your favorite comfortable jeans or leggings, and canvas sneakers.
For hitting the soccer sidelines, or heading out for coffee with friends, you'll love the casual comfort, flattering design and easy to wear style that a kaftan gives you for your everyday wear.
Ladies' Lunch
A kaftan is the elegant cousin of the tunic, and if you think of it this way, your ladies' lunch is styled perfectly with a bit of color and lots of embellishment, over your favorite leggings and with leather sandals. Don't forget some big hoop earrings to complete the Indie Boho chic look.
The beauty of kaftans is that they come in a rainbow of color choices, so you have a beautiful selection from rainbow colors to more subdued tones of grey and cream, black and white, royal blue and white, or coral. Whichever you choose, you'll feel divine as the kaftan flatters every shape and size, and feels breezy and easy to wear for the ultimate in comfort chic – especially when sharing a bottle of wine with your girls.
Bring Bling to Date Night
Indie and boho chic is everything for the glitterati right now, and if you want to get the boho look but your hippie days are behind you, kaftans can bring the look to your wardrobe without a dreamcatcher in sight.
A kaftan brings that heady resort glam look to your date night or a dinner party with friends in boho chic comfort. Choose a maxi kaftan that falls to your ankles – either plain or embellished, wear with sandals or brightly colored heels for an elegant look, and as much bling as your dare. Keep your hair loose and natural, and add a comb or a cheeky plait at the side to get the look the famous set adores.
Glamorous Resort Wear Gets Stunning
Making an entrance at a cocktail soiree or wedding used to mean a sparkling cocktail dress or shimmering black dress. Instead, buck the old and bring in the new with color and flattering comfort to your cocktail party style.
Kaftans in the brightest of hues, with sweeping batwing sleeves and low necklines will flatter your décolletage and scream stylish glamour at any party or wedding. Wear with high beaded sandals, masses of gold jewelled necklaces, stacked bangles, and a tan for the perfect party style.
You'll find a beautiful range of Australian kaftans shipped worldwide from Bondi Lifestyle inspired by Australia's most famous beach, Bondi in Sydney. Every season, shape and size are catered for in this glamorous Australian beach fashion online shop.
——–
Written by Kathryn Porritt, owner of Bondi Lifestyle, your beach fashion online shop filled with a curated collection of kaftans, beach dresses and tunics to buy online inspired by Australia's most famous beach, Bondi Beach in Sydney.
A celebrated author and an experienced stylist, Kathryn's unique feminine beach style is brought to her customers through her beautiful online beach fashion collections that are shipped worldwide from Australia.