If you're cruising to a new destination, you'll probably want to get out and see the sights and make the most of your time on shore. There will be plenty of organized trips available to you, and in some ports they are by far the simplest and best option.
However, the ship tours invariably cost a lot more than if you were to do the trip by yourself. If you want to save on those expenses and prefer the flexibility of doing your own thing, then in most places it's pretty easy to explore solo.
It is best to research this in advance though – especially if you're venturing a bit further afield – so you know what to expect and how long it will take to get there.
One thing you MUST always remember is to leave plenty of time to get back to the ship – it WILL NOT wait for you if you're late! The 'back on board' times are clearly shown when you disembark, so make a note of it.
Top tip: Check your watch is set to the correct time zone too.
The most popular day-trip destinations from the Italian port of Livorno are Pisa and Florence. Livorno itself is pleasant enough, but there's nothing of real note to see there.
You need to allow a couple of hours each way to reach Florence (plus leeway for delays coming back), so that means a pretty full-on day once you get there if you want to see all the major sights. Plenty of people do it, but personally I would book a tour to go this far (either via the Ship or a local operator) or at least the transport part so there is less uncertainty about getting back on time.
Pisa on the other hand is very doable – it's not so far and the only major attraction to get round is the famous Leaning Tower complex.
We visited in late October, and after a torrential rain storm around breakfast time it was a warm and pleasant day. Fortunately we hadn't got up early or we would've been out in the rain and got soaked.
From The Port To Livorno
First step is to get into the centre of Livorno town. This is a little way from the port, and as pedestrians aren't allowed in the docks area itself there is no choice but to get on the shuttle buses provided by the ship. Despite the fact there's no choice they weren't free (may depend on your cruise line though) and we had to pay €5 each for a return ticket.
Bus To The Train Station
The shuttle drops you in the centre of Livorno from where you will have to get another local bus to the train station. Head for any newsagent (Tabacchi) where you can buy both bus and train tickets. All the staff we encountered spoke English, or at least enough to handle the ticket purchases. They are used to tourists doing the familiar routes so will be able to advise on what tickets you need, where to catch the bus, etc.
To Pisa By Train
The bus tickets were €1.20 each for a single journey, and the train tickets to Pisa €2.50 for a single – great value. Bus 1 took us to the train station (about 10 minutes away) where it was easy to find the platform we needed from the overhead display boards. The stops of each train are shown as well as the final destination. Just make sure you catch a Regionale train rather than an Intercity (which are more expensive).
There were about 4 trains an hour heading to Pisa Centrale, and the journey took 20 minutes. Before you get on the train you must validate your ticket by punching it in the machines along the platform (just stick it in the slot, it will whirr and stamp a date on it). Bus tickets need to be validated too – there are usually 2 or 3 machines on each bus and you can get on at any door, you don't need to pass the driver.
There was plenty of room on the train, although it may be busier at rush hour times.
Walk From Pisa Centrale To The Tower
Once we arrived in Pisa, there wasn't much in the way of signposts to the Leaning Tower – surprising as you'd think that's what most visitors would be heading for. A map outside the station wasn't much help either.
But you just have to walk straight ahead when you come out of the station.
Top tip: Italian driving is a little wild! Drivers won't stop at zebra crossings unless you step out in front of them.
Cross a small square, cross the river and keep going straight ahead down a shopping thoroughfare. This street is pedestrianised, but watch out for cyclists! There are signposts once you get nearer the tower, and eventually you will see it above the buildings.
The walk takes around 20 minutes, it's flat and easy and lots of people were pulling suitcases along too.
At the Tower itself it was busy, as you might imagine. Tickets to go up the tower are in fixed time slots, and at busy times it would be best to book ahead to avoid disappointment. All bags must be left in the cloakroom, and you must be on time to join the queue. It is cramped and winding (297 steps in a spiral staircase) and probably not advisable if you have any mobility, balance or vertigo problems. Wear comfy secure flats, and have sun protection in summer as you may have to queue outside for a while.
We didn't actually climb the tower as I'd hurt my back the day before and was struggling with normal stairs. But you get an excellent sense of the 'lean' from outside – far more than I imagined, it really is leaning!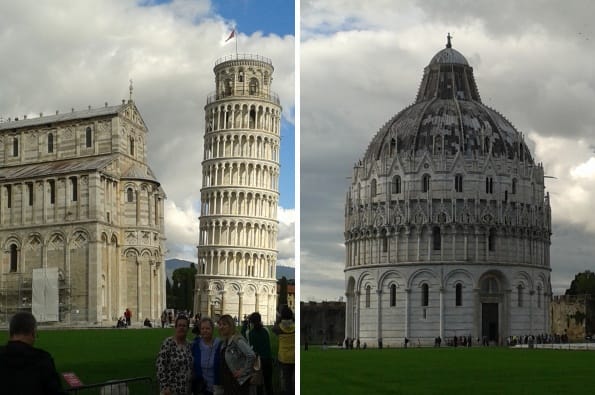 The Tower is actually the bell tower for the cathedral and is just one of four buildings to visit in the complex. If you want to see everything allow a couple of hours. If you just look round from the outside then about half an hour would do it.
It is very touristy, it's busy and there are touts everywhere trying to sell you a selfie stick. But it was definitely worth seeing, and don't forget the obligatory 'pushing' photo!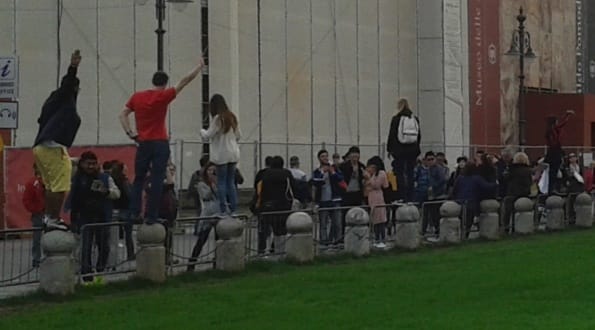 We took a more leisurely walk back through the side streets, and there are some lovely little street cafes to grab some lunch or a cold drink whilst you enjoy the sunshine.
The train ride home was uneventful (departures every 20 minutes or so going back), and we had a bit of a wait to reboard the shuttle bus back to the ship. There were several ships in port that day, so make sure you get on the right bus! (You could spot the British on P&O's Oceana by their very straight and organized queue!).
One sad thing I must mention is pickpockets. These are known to be rife in many Italian tourist areas, and we heard later of a couple of people who'd been victims at a bus stop in Livorno. One lady had just been to the currency exchange (and was presumably followed) and later found her currency envelope was missing from her bag (which had been worn across her body). Another man found his wallet on the floor with the cash missing – it had been in a velcro-ed trouser pocket. A group of teenage girls had pushed past them all and then walked back along the line; they're very quick, slick and maybe not what you expect a pickpocket to look like. So do be wary – wear bags and purses across your body and keep your hand on it in crowded places. Similarly, keep your hand on any valuables in your pockets. More than anything, limit how much cash you carry.
Top tip: Keep a hand on your valuables in busy places.
Not wanting to finish on a sour note, we enjoyed Pisa very much and would definitely recommend it for a leisurely day trip from Livorno. It's really easy to do.